Most of us wouldn't think twice about watching a movie, but for some, it can be difficult and even more expensive than usual.
Rikki Poynter, a vlogger based in Charlotte, NC., is deaf, and therefore needs closed captioning (CC) to be able to watch movies and TV. This limits which films she can check out as not every movie theatre comes equipped with closed captioning services.
On Oct. 3, Poynter was in Toronto, hoping to see Tim Burton's latest film, "Miss Peregrine's Home for Peculiar Children," at the Cineplex Odeon Queensway Cinemas, but was disappointed to discover that they didn't offer CC in regular theatres.
Poynter vented her frustration with the theatre on social media, tweeting, "FYI, if you want to see the new Tim Burton movie and you're deaf and in Toronto, the Queensway @CineplexMovies won't have CC for it."
FYI, if you want to see the new Tim Burton movie and you're deaf and in Toronto, the Queensway @CineplexMovies won't have CC for it.

— RIKKI POYNTER (@rikkipoynter) October 3, 2016
Cineplex replied to her via Twitter, telling Poynter to call their guest services line for assistance, however, Poynter pointed out that she couldn't call them as she's deaf and needs closed captioning.
@CineplexMovies I pointed out that I'm Deaf a few times already and need captions. How am I going to call you?

— RIKKI POYNTER (@rikkipoynter) October 3, 2016
She also took to Facebook to let people know about her bad experience with their customer service, adding people who need CC will have to pay extra for a ticket because their only choice is to see the film in a VIP theatre — which costs more than a regular theatre.
Others took to Twitter to support Poynter and share their incredulity over her experience.
@CineplexMovies @rikkipoynter That's like saying you have handicap accessible theaters but it costs an extra $3 to use the wheelchair ramp

— Sarah (@sarahsourire) October 3, 2016
@rikkipoynter I think this image encapsulates @CineplexMovies lack of understanding of the problem perfectly: pic.twitter.com/GeBwYkObss

— Pennywise Sweeney (@MarkSweeney) October 3, 2016
Yeah, no.
The fact that you'd want us to pay a heck of a lot more $$$ for something that should already be there is just... lol. No. https://t.co/d0peaqmy8f

— RIKKI POYNTER (@rikkipoynter) October 3, 2016
According to Cineplex.com, 69 Cineplex theatres in Ontario have a closed caption viewing system — 10 of them in Toronto.
However, the site notes that if a "studio does not provide a captioned version of a specific movie, this option will not be available to our guests no matter what technology exists in Cineplex theatres." They continue to say that they "encourage" studios to provide "maximum accessibility" for all their films.
A quick glance at the Cineplex Cinemas Yonge-Dundas theatre revealed that the majority of CC-enabled films were in VIP or Ultra AVX theatres, meaning movie-goers have to shell out more money to see the film. Of the 20 films being played at this theatre this week, six of them had closed captioning.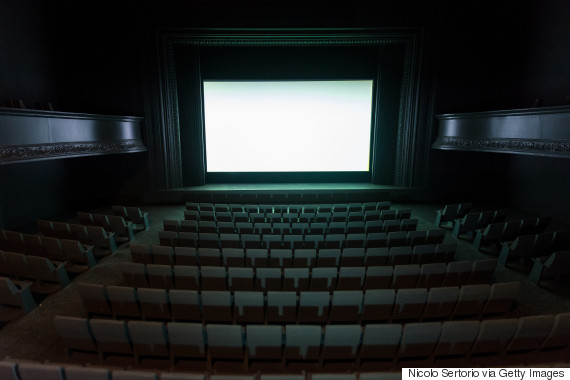 Poynter isn't the only one who has been disappointed by the closed caption system in Toronto.
Movie critic Michael McNeely, who suffers from a syndrome that affects his vision and hearing, was left hanging after he went to a film shown during the 2016 Toronto Film Festival that was promised to have closed captioning. However, the equipment failed to work.
"The question is why are they screening the film at that auditorium? And why didn't they know that it would be a problem sooner?" McNeely told the CBC. "I was very disappointed."
Of the approximately 400 films being screened at TIFF this year, only three of them had closed captioning.
Update: According to Poynter, she didn't hear back from Cineplex customer service on Twitter after telling them she couldn't speak to them on the phone. "I haven't had an issue about a movie not having captions until Sunday," Poynter told the Huffington Post Canada via email. "My usual issue is that the CaptiViews don't have all the captions on there, which did end up once again being the case when we went to see 'Suicide Squad' instead."

She continued: "After telling them I couldn't call them (which was mostly an issue of me not having my Canadian SIM card yet so I couldn't use the new Apple TTY software, really, but the fact that businesses are so quick to just say 'call us' is annoying), they didn't reply back at all."
Also on HuffPost
9 movies that will inspire you to travel around the world