OTTAWA — A federal watchdog is urging Canada's nuclear safety regulator to tighten up its inspections, saying paperwork problems are fuelling questions about whether it is scrutinizing facilities as thoroughly or as often as it should.
"This kind of lack of precision in a precision industry, I think, is not really acceptable," Environment Commissioner Julie Gelfand told a news conference Tuesday after tabling her spring audits in the House of Commons.
"These mistakes shouldn't happen when we're dealing with nuclear power plants."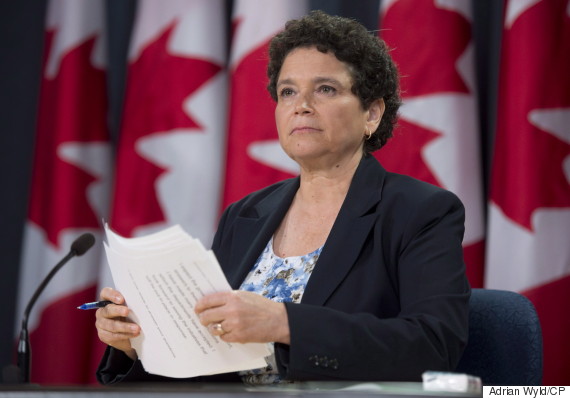 Environmental Commissioner Julie Gelfand speaks at a news conference on Oct. 7, 2014. (Photo: Adrian Wyld/CP)
The chapter on the Canadian Nuclear Safety Commission was one of five in Gelfand's fall audit, which also criticized Fisheries and Oceans Canada for failing to properly monitor the health of some fish stocks, or put plans in place to rebuild a dozen that are in critical condition.
The federal nuclear safety regulator uses site inspections at the four nuclear power plants in Canada — three in Ontario and one in New Brunswick — as a key tool to ensure they comply with regulatory requirements and licence conditions, the audit noted.
But auditors found that, mainly thanks to insufficient or incomplete documentation, the regulator was unable to show auditors that it had an adequate, systemic process in place to plan for and carry out inspections, or that they were guided by the level of risk.
The report noted, for example, that while the commission had developed a five-year routine inspection plan — intended to be the minimum number that should be carried out over that period of time — it had included only about 48 per cent of those planned inspections in its annual schedule for the fiscal years 2013-14 and 2014-15.
Regulator not conducting all planned inspections
Even that altered schedule was not adhered to, the report found, with the regulator completing 76 per cent of the 255 inspections it planned for those two years.
That figure was difficult to calculate, due to inaccurate or incomplete planning records, the audit noted.
The report made clear the audit focused only on how the commission manages its site inspections, not the safety of the nuclear power plants.
Gelfand also learned that inspectors did not always follow CNSC procedures, with only about 25 per cent of them using inspection guides as required.
"It's a bit like an airline pilot who doesn't go through his checklist before taking off."
The reasons for not carrying out planned inspections were varied, but the report suggested staffing levels might be an issue.
Department of Fisheries under scrutiny, too
In a written response included with the report, the regulator said it already has comprehensive oversight in place, but agreed that it needs better documentation to demonstrate this fact and make site inspections more consistent.
"We will continue to work to ensure that Canada has the highest standards on nuclear safety and security. That is what Canadians expect," Prime Minister Justin Trudeau said during question period when asked about the report.
Kim Rudd, the parliamentary secretary to Natural Resources Minister Jim Carr, later said the federal government will watch the commission's progress closely, but also characterized the issue as a matter of paperwork.
"The key message here, I think, is (Gelfand) found there was reports that weren't filled out properly and done in a timely manner and they are addressing that," she said.
Fisheries and Oceans, meanwhile, came under scrutiny for out-of-date or missing plans to manage 44 of the 154 major fish stocks — a grouping of fish based on genes and geography — it is responsible for managing.
Coast Guard problems
"Current and reliable information is needed for the department to manage Canadian fisheries in a manner that supports conservation and sustainable use and fosters economic prosperity for those who depend on fisheries for their livelihoods," Gelfand wrote.
She later said one only need consider the collapse of the Atlantic northern cod fishery in the early 1990s to realize how important an issue managing fish stocks can be.
The report found the department has not yet developed rebuilding plans for 12 of the 15 fish stocks — still being fished — that are considered to be in the "critical zone," meaning they are suffering from serious harm, and have no firm timelines for doing so.
"Not having a rebuilding plan in place increases the risk that these depleted stocks may not recover," said the report.
The report also found the department is missing important information required to manage these fish stocks in a sustainable way.
Fisheries spokeswoman Carole Saindon said in an emailed statement the department is already responding to some of the issues raised in the report.
"While we have not completed rebuilding plans for these 12 stocks, the management measurers take account of the state of each stock and the risks to each from fishing," she wrote.
Also on HuffPost
13 Amazing Environmental Facts