A couple is getting a lot of attention thanks to their epic engagement and wedding, which spawned the viral hashtag #ForeverDuncan.
Alfred Duncan proposed to his girlfriend, Sherrell, on Saturday, Oct. 1. Just six hours later, he threw her a surprise wedding, and videos of the party and the bride's reaction have gone viral.
How did Duncan pull off not only a surprise engagement but a surprise wedding? With a bit of sneakiness and the help of family.
On Saturday, Duncan got his soon-to-be fiancée to do everything he asked of her, including giving up her phone. With that phone, Duncan was able to document the day's events without Sherrell's knowledge on both of their social media accounts.
Eventually, Duncan took his girlfriend to a restaurant, where he left her to meet up with family members and friends who were waiting in the back.
Sherrell's daughter brought her to the room where they were all gathered and Duncan asked for her hand in marriage, to Sherrell's surprise and delight.
After the proposal, Sherrell was taken to a hotel where she was met by an army of stylists, given a black dress (which she wouldn't find out until later was her wedding dress), blindfolded and taken to the National Harbor in Maryland.
When they got there, the song "I'll Be Loving You Always" started to play and Sherrell's blindfold was removed to reveal her wedding.
"I'm so happy that you chose to do this with me," Sherrell told Duncan. "I love you with my whole heart, baby. I can't imagine what life would be without you. I love you so much."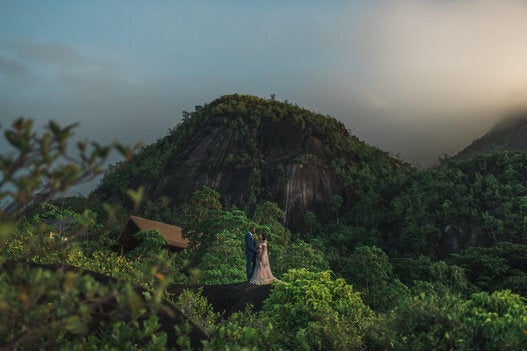 Best Destination Wedding Pics 2016