The fashion crowd is speaking out about Kim Kardashian's robbery in Paris, and they seem to be blaming the 35-year-old reality TV star for the crime.
"Well, she should stop Instagramming pictures of herself in her hotel bathroom," an American magazine contributor told The Hollywood Reporter.
Another American fashion editor joked, "She was probably drunk after the L'Oreal party and let them in accidentally. Or she tagged herself there. Criminals can have Instagram too." (Note: Kardashian famously does not drink.)
And some just questioned the entire ordeal, with a British journalist asking, "Where did they get a gun? Sounds fake."
Yahoo Style also overheard one editor at a show expressing little surprise at the incident.
"That's what happens when you invite cameras around every time you go shopping for more designer stuff."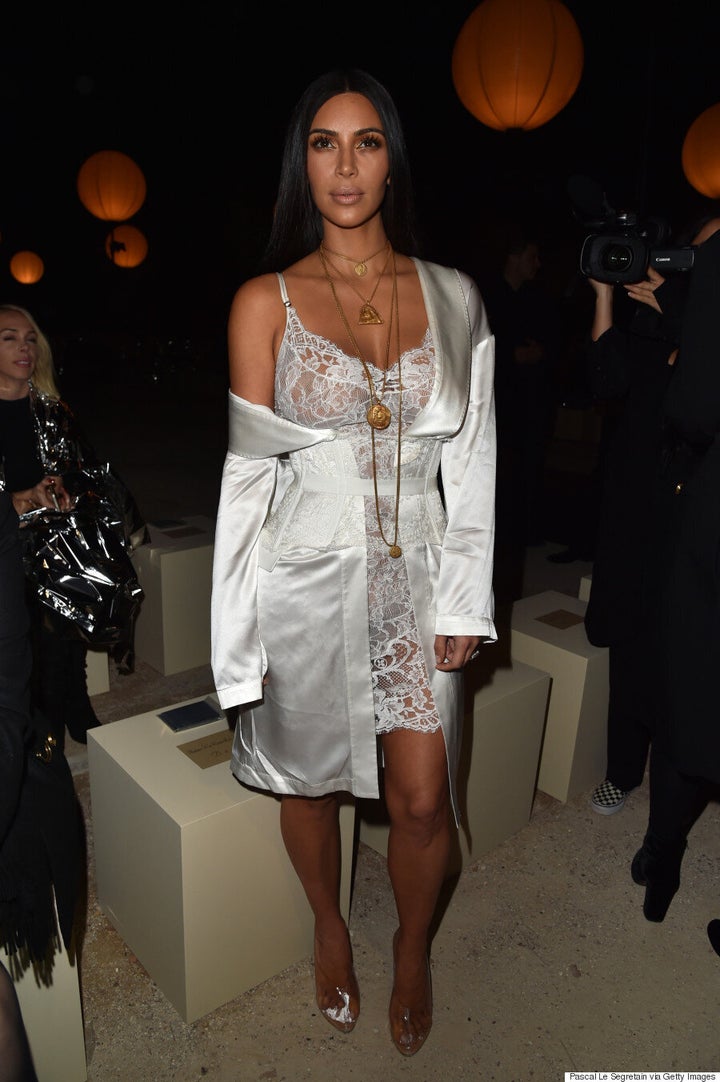 Kim Kardashian attends the Givenchy show as part of the Paris Fashion Week Womenswear Spring/Summer 2017 on Oct. 2, 2016 in Paris.
According to E! News, Kim was "gagged and bound at her hands and feet, then handcuffed at gunpoint" Monday morning. Five men left her tied up in a bathroom before stealing over US$10 million worth of jewelry.
"She begged for them to let her live and [said] she had babies at home. Then they wrapped her mouth in tape and put her in the bathtub," the source told E! News. "She thought they were for sure going to kill her."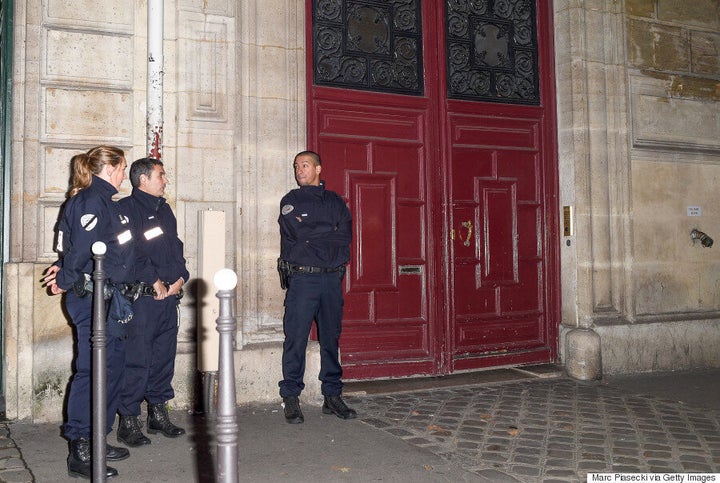 French police officers stand in front of Kim Kardashian's luxury apartment Hotel de Pourtales on Rue Tronchet in the 8th arrondissement, where she was robbed at gunpoint by masked men during a visit to the French capital to attend Paris Fashion Week, on Oct. 3, 2016.
TMZ reports the mother of North and Saint West was "lying in bed with only her robe on when she heard boots pounding up the stairs of her two-storey apartment." She reportedly saw a masked man and another wearing a police hat through the glass sliding door, and tried calling her bodyguard, Pascal Duvier, on her cell phone, but the phone was ripped out of her hands by one of the men before she could finish dialing.
Kim told cops she believed she was going to be raped when one of the men grabbed her by her ankles. She also said the men were after the new ring she got from husband Kanye West.
TMZ also reports Kim's friend, Simone Harouche, was in the downstairs bedroom of the apartment, and locked herself in the bathroom, calling Duvier and Kim's sister, Kourtney Kardashian, telling them to hurry back.
The entire incident supposedly took six minutes, with Duvier arriving two minutes after the robbers left. Kim fled Paris after talking to the police.
Kanye was performing at the Meadows Music and Arts Festival in New York during the incident. He ended his set abruptly, in the middle of performing "Heartless," telling concert-goers he had a family emergency. He has since rescheduled his two upcoming shows for his Saint Pablo tour that were originally scheduled for Oct. 4 and Oct. 6.
North and Saint were in New York at the time of the robbery, according to ET.
So far, no one from the Kardashian family has publicly spoken about the incident, though Kim's spokesperson, Ina Treciokas, said the reality star was "badly shaken but physically unharmed."