Remember Maria Kang? The fit mom gained internet fame (and hate) for a photo that asked "What's Your Excuse?" and showed off her toned bod just eight months after giving birth to her third child.
While Kang was criticized for shaming fellow moms for not having the time or energy to get active, it seems she's had a change of heart. The mom-of-three is now back with a few excuses of her own (and a little more weight).
Last week, Kang revealed on Instagram that she's had somewhat of an epiphany after experiencing her own trials as a mother. This includes being over-stressed, dealing with her separation from her husband and dealing with depression.
Despite all this and having feelings of low self-esteem, Kang decided to participate in an impromptu photoshoot to celebrate herself and her body.
"It's been over a year since I could get in front of a professional camera because I never felt 'ready enough,'" she wrote. "There were constantly events, children, stress and even some depression, that prevented me from following through on my quarterly goals."
"I shot this in the afternoon after eating a donut (thanks to my bff who owns a shop!) I didn't exercise for 4 days prior and was tired after a day working and being with my kids. AND I am 10lbs up since I shot that 'What's Your Excuse' photo!" she continued.
"This is a raw photo with absolutely no retouching, no preparation and no shame. I'm finding my beauty again, I'm discovering my strength again and I'm relearning what it means to be brave, bold and unapologetic about where I am in my life's journey."
Since posting her unedited images, Kang has received tons of positive feedback. In particular, fans really appreciated Kang's honesty.
"This was so encouraging to me!" one wrote on Instagram. "Thank you for being realistic, it would help a lot of women if more women were willing to open up and show the every day, realistic side of things."
Another agreed, saying: "Regardless of what the world sees we focus on our flaws, what we once were, how we looked last year. THANK YOU for the honesty. For putting on the suit, for eating the donut & sharing your strength, mentally physically & emotionally."
In regards to her latest photo shoot, Kang told People magazine: "It was important for me because I always tell women to celebrate their bodies. Regardless if we have some cellulite, extra weight, extra skin or extra scars – be proud because we are constantly progressing, transforming and aging! This is our temple so take care of it!"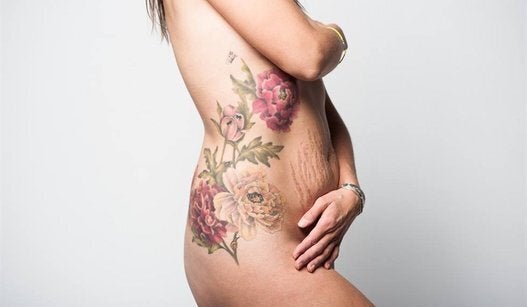 What REAL Women Look Like After Giving Birth