WASHINGTON — Donald Trump's running mate earned good reviews for a smooth debate performance, with one CNN poll showing six per cent more respondents who watched Tuesday's event declaring Mike Pence the winner. They might not have noticed the nose-stretchers. Trump, however, will clearly be asked about some of them.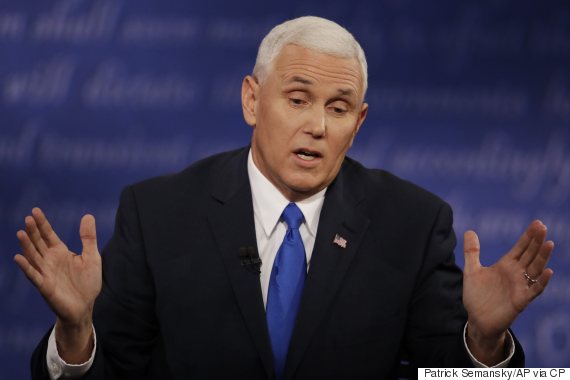 Republican vice-presidential nominee Gov. Mike Pence speaks at a debate at Longwood University in Farmville, Va. on Oct. 4, 2016. (Photo: Patrick Semansky/AP via CP)
The Indiana governor flatly denied facts; he described policies that contradicted his boss's; and he insisted Trump never said things Trump did, in fact, say. When pressed into Trump's defence, his running mate ran away. Here are five examples:
— On whether Trump encouraged the spread of nuclear weapons
Pence said:  "He never said that." Trump: "You may very well be better off if that's the case," Trump told the New York Times on the subject of Japan getting nuclear weapons. Proliferation is probably going to happen anyway, he added. Trump often says the U.S. can't afford to police the world, and more countries will have to defend themselves. Separately, he said in a speech that if conflict erupts between Japan and North Korea, "It would be a terrible thing but if they do, they do... Good luck... Enjoy yourself, folks." ———
— On criminal-justice reform
Pence said: "We need criminal justice reform." Trump: That's not his position. "I am the law-and-order candidate," he often says. In his convention speech, he criticized current reform efforts: "Decades of progress made in bringing down crime are now being reversed by this administration's rollback of criminal enforcement." Two constants define Trump's political worldview, dating back to the 1980s: criticizing trade deals, and being tough on crime. He's stuck to his guns, even in an era where U.S. conservatives look to loosen prison sentences for non-violent offenders.  ———
— Did Trump and Pence call Russian strongman Vladimir Putin a great leader?
Pence said: "No, we haven't." Trump: A few weeks ago Trump said, "He is, really, very much of a leader... Far more than our president is a leader." He added a caveat — that Russia has a different political system, and he doesn't like it much. Pence said something similar last month: "I think it's inarguable that Vladimir Putin has been a stronger leader in his country than Barack Obama has been in this country." ———
— On a Syria strategy
Pence: On what basic approach to take in the most far-reaching conflict in the world, he contradicted his boss. Pence proposed using force against the Assad regime to prevent civilian massacres — even if that means escalating tensions with Assad's ally, Russia: "Provocations by Russia need to be met with American strength. And if Russia chooses to... continue to be involved in this barbaric attack on civilians in Aleppo, the United States of America should be prepared to use military force to strike military targets of the Assad regime to prevent them from this humanitarian crisis that is taking place in Aleppo." Trump: He sees one enemy in Syria — and it isn't Assad. It's ISIS. Trump has repeatedly ridiculed the idea of fighting against both sides of the Syrian civil war. He told the New York Times this summer: "I thought the approach of fighting Assad and ISIS simultaneously was madness, and idiocy. They're fighting each other and yet we're fighting both of them... I think that our far bigger problem than Assad is ISIS, I've always felt that. I'm not saying Assad is a good man, 'cause he's not, but our far greater problem is not Assad, it's ISIS." ———
— On whether Trump, in a book he wrote, called old-age social security a Ponzi scheme, and proposed privatizing it
Pence: He mocked his opponent for raising it, saying, "There they go again." Trump: He hasn't mentioned that in this campaign. But he certainly did so in a book he wrote, when he considered a presidential run in 2000. He used the analogy twice in, "The America We Deserve": "The workers of America have been forced to invest a sixth of our wages into a huge Ponzi scheme. The pyramids are made of papier-mache. Is there a way out?" The way out he suggested was making private investments.
Also on HuffPost