HALIFAX — Despite its brawn and fury, hurricane Matthew no longer poses much of a threat to Canada's East Coast, the Canadian Hurricane Centre said Wednesday after it dropped a tropical cyclone statement from its website.
Meteorologist Bob Robichaud said the powerful, slow-moving storm is now expected to veer into the Atlantic Ocean after scraping along the coast of Florida, and it may double back for another run at the state later this week.
"That's bad news for the U.S.," he said in an interview.
Earlier track models had suggested the storm — listed as a Category 3 hurricane on Wednesday — could slam into the Maritimes late on the holiday weekend, prompting many marinas and ports in the region to begin securing boats and cargo.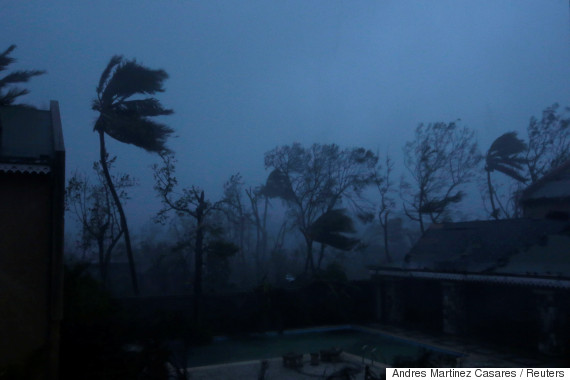 Trees sway with the wind during Hurricane Matthew in Les Cayes, Haiti, Oct. 4. (Photo: Andres Martinez Casares/Reuters)
Robichaud said a low-pressure system had pushed the jet stream south from the Great Lakes, which meant the storm could have hitched a ride with steering currents in the upper atmosphere and headed into Atlantic Canada.
But a high pressure system moved the jet stream north before Matthew could get a lift.
"We no longer expect this to come anywhere near us on the weekend," said Robichaud, adding that the high-pressure system will effectively block the storm's progress north.
"For us, for the long weekend, it's looking pretty good."
"I wouldn't turn my back on this storm just yet."
Still, Robichaud said the hurricane could change course again.
"I wouldn't turn my back on this storm just yet."
Father out to sea, the 14th named storm of the season, tropical storm Nicole, isn't expected to have much of an impact on Matthew or Canada. Nicole isn't even expected to become a hurricane.
Meanwhile, hurricane Matthew has already caused deadly devastation in Haiti and other parts of the Caribbean — and mass evacuations were well underway Wednesday along the U.S. East Coast as the storm moved north of the Bahamas.
And even though Matthew remains far from Canadian shores, Maritimers were getting ready Wednesday for a bout of nasty weather — just in case.
Storms have caught residents off guard
Hurricanes and tropical storms have made a mess of the region before, sometimes catching residents off guard.
At the Charlottetown Yacht Club, some boaters hastened the end-of-season removal of their vessels.
Steve Murray, the club's commodore, said the boats have to come out of the water within the next 10 days because the marina's floating docks are always hoisted ashore before winter sets in.
"We've accelerated that process a little bit," Murray said in an interview. "We're a little gun shy. The yacht club is in quite an exposed location."
Many vessels at the marina were badly damaged by hurricane Juan in September 2003 and by post-tropical storm Arthur in 2014.
Likewise, safety preparations were well underway at the Port of Halifax.
"We're a little gun shy. The yacht club is in quite an exposed location."
"We're making sure that everything that can be nailed down and tied up is in fact secure," said spokesman Lane Farguson. "We're moving equipment from the waterline to farther back."
In New Brunswick, Emergency Measures Organization spokesman Robert Duguay said staff have been monitoring the storm for several days.
"This one is not taking us by surprise," he said.
Matthew formed as a tropical storm Sept. 28 and quickly developed into a hurricane the following day. During a brief period last week, it had reached Category 5 status, churning out sustained winds over 252 kilometres per hour.
Also on HuffPost