A top Conservative chided members of the government benches Wednesday for appearing to laugh at a personal story she was beginning to tell about a friend.
"Are you kidding me? You're laughing?" veteran Ontario MP Lisa Raitt asked the Liberals.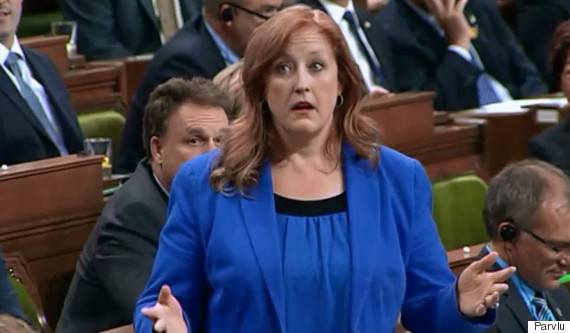 Raitt did not take kindly to the Liberals' reaction in question period. (Photo: Parlvu screengrab)
The Tory finance critic and possible leadership contender has recently taken to sharing anecdotes about real people to support her claims that Liberals are making life harder for Canadians.
Earlier this week, for instance, she asked the environment minister what she would tell her Aunt Collen in Cape Breton, N.S. — a "widow on a fixed income" — who fears carbon pricing will increase costs from food to gas.
On Wednesday, Raitt spoke of her friends Susan and Marie in Ontario.
Susan from Guelph
Raitt said Susan is a Guelph-based divorced mother of two kids in university who is feeling "a bit cash-strapped" these days as her hydro rates go up. She said Susan wants to keep her house for at least the next four years.
"And she doesn't understand why this government doesn't realize what her situation is because if they did, they would never raise her taxes," Raitt said.
She asked Environment Minister Catherine McKenna what she wanted to tell her friend.
Francois Philippe Champagne, the parliamentary secretary to the finance minister, responded instead by saying Liberals reduced taxes for nine million middle class Canadians. He also lauded the Canada Child Benefit and deal to enhance the Canada Pension Plan.
"This is the government that is working for middle-class families, and we will continue to do so," he said.
Marie the hockey mom
"Another friend of mine, Marie, has three boys…" Raitt began.
Some MPs on the other side grumbled, raising Raitt's ire. The Tory MP got defensive.
"It's not funny," she said.
After a beat, the MP said Marie has three boys and a husband who just went on disability.
"They have a hard time making ends meet," Raitt said. "She is trying to deal with it as best she can but the money is just not there."
Social development minister lauds government
Now, Raitt said, Marie is hearing about "more taxes" and isn't sure which of her boys won't play hockey next year because her van needs to be filled with gas.
"What comfort do they have to give her?" she asked, sparking a standing ovation from her Tory colleagues.
Social Development Minister Jean-Yves Duclos thanked Raitt for her "passion."
Duclos also lauded the Canada Child Benefit, which he called the "most significant social policy innovation in a generation." He said 300,000 children will be taken out of poverty because of that decision.
That remark also drew a standing ovation from Liberals, even though government MPs have mostly opted to avoid applause during question period.
The Liberal plan to reduce greenhouse gas emissions begins in 2018 with a low carbon price of $10 per tonne that would rise by $10 per tonne each year until it reaches $50 per tonne in 2022.
With a file from The Canadian Press
Also on HuffPost
Conservative Leadership Candidates