Which province will lead Canada in economic growth next year?
That depends on the bank you're asking.
The Bank of Montreal (BMO) released the BMO Blue Book on Thursday, showing precisely how much it expects provincial economies to grow in 2016 and 2017.
The bank expects British Columbia to top all economies with real GDP growth of three per cent this year and 2.5 per cent next year.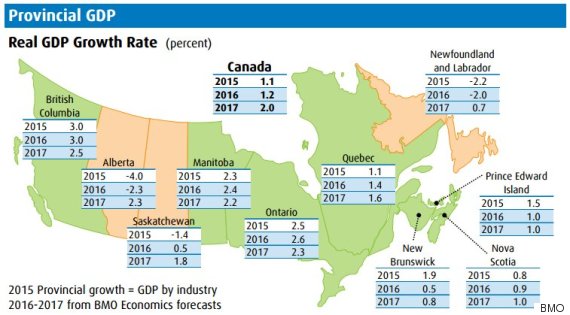 B.C.'s growth is being driven mainly by housing and consumer spending, the report said.
Housing, however, is starting to slow; sales volumes have been dropping since early this year, even before the province implemented a 15 per cent property transfer tax in August.
Nevertheless, B.C. has Canada's lowest jobless rate, it has positive interprovincial migration (it took in 22,358 people from other provinces and lost 14,287 in the second quarter), and these trends are reflected in strong retail sales.
Canadian Provincial Economic Growth, 2015-2017



But you hear a different story from TD.
Just last week, the bank released a Provincial Economic Forecast showing that Alberta's economy, and not B.C.'s, is set to lead all provinces in 2017.
The oil-producing province will see economic growth of 2.2 per cent next year, topping B.C.'s two per cent, TD said.
And that's expected to happen as oil production grows and new oilsands projects come online, the forecast added.
Reconstruction efforts in Fort McMurray should also help its economy grow.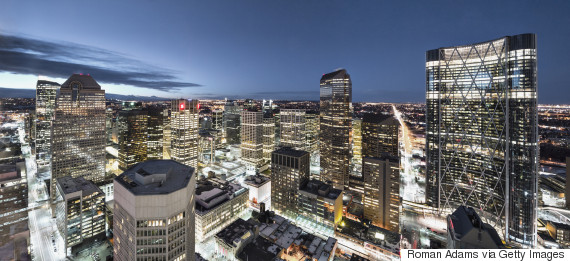 Calgary. (Photo: Roman Adams/Getty Images)
BMO sounded a less optimistic tone for Alberta. It expects the province's economy to grow at two per cent, a "historically subdued" rate that represents a "gradual upward grind in oil prices."
The bank doesn't expect oil prices to return to a place where they "spur another investment boom" for the province.
But BMO took a brighter view of the southern part of the province, where it is seeing "less reliance on the energy industry."
The province's agricultural sector is showing "impressive strength" and the cattle industry is expected to remain strong despite low beef prices, it added.
Tough times ahead
Overall, however, BMO said Alberta businesses will have to rely on their "can-do" attitude to come through some challenging times ahead.
"Albertans have long supported each other in difficult times, and their resilience will help them get through this challenging time successfully," the report said.
One bank clearly sees a rosier future for Alberta than the other one does.