Fox News isn't exactly a stranger to controversy, but a recent segment has landed the network in a maelstrom of outrage both online and off.
For a segment on "The O'Reilly Factor," reporter Jesse Watters took to New York City's Chinatown to ask locals about the U.S. election.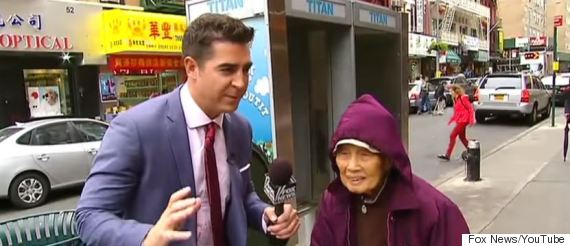 The "Watters' World" segment aired on Monday. (Photo: Fox News/YouTube)
The clip's intended premise seems innocent enough. The show's host, Bill O'Reilly, said the idea was inspired by the number of times China was brought up during the first presidential debate between Donald Trump and Hillary Clinton.
But critics say the "Watters' World" segment, which aired Monday, stereotyped Asians and even amounted to stalking and harassment.
In the clip, Watters asks people about the presidential candidates, but footage from movies like "Chinatown" and "The Karate Kid" is played throughout the segment.
Watters also asks two women if he is "supposed to bow to say hello" and inquires whether a vendor's watches were "hot."
Watters even gets a foot massage at one point and asks the masseuse if she could play "this little piggy went to market."
This is cringeworthy, and it's unbelievable that it was aired on TV in 2016. https://t.co/HcWmuqzToD

— Joy Reid (@JoyAnnReid) October 6, 2016
Activists and politicians are participating in a protest planned for Thursday outside the channel's headquarters in Manhattan, according to NBC New York.
"It's 2016," Said Paul Cheung, president of the Asian American Journalists Association in a statement sent to Fox.
"We should be far beyond tired, racist stereotypes and targeting an ethnic group for humiliation and objectification on the basis of their race."
The segment also received a lot of flak on social media:
This is shockingly racist, even by Fox standards https://t.co/9IocTVPhlZ

— Matthew Yglesias (@mattyglesias) October 5, 2016
The worst part about @jessebwatters is that his #racist tropes aren't even original. ignorant, lazy journalism. a disgrace @FoxNews #FoxNews

— Jooyoung Lee (@theyoungjoo) October 6, 2016
So @FoxNews went to Chinatown to do "comedy" mocking immigrants with poor English. I'm sending a crew to Fox to interview them in Japanese.

— George Takei (@GeorgeTakei) October 6, 2016
New York Mayor Bill de Blasio described Watters' actions as vile and racist.
The vile, racist behavior of Fox's Jesse Watters in Chinatown has no place in our city. @FoxNews – keep this guy off TV.

— Bill de Blasio (@BilldeBlasio) October 6, 2016
After the clip sparked a storm of controversy, Watters took to Twitter on Wednesday to say that the segment was meant to be a "light piece." He also apologized if anyone was offended by it.
As a political humorist, the Chinatown segment was intended to be a light piece, as all Watters World segments are.

— Jesse Watters (@jessebwatters) October 5, 2016
My man-on-the-street interviews are meant to be taken as tongue-in-cheek and I regret if anyone found offense.

— Jesse Watters (@jessebwatters) October 5, 2016
Also on HuffPost
Spectacular Fox News FAILS