KERRVILLE, Texas — A juvenile has been charged in an arson attack on a 10-year-old South Texas boy who suffered serious burns and is in a coma.
The Kerrville Fire Marshal said in a statement Wednesday that the juvenile, who hasn't been named, is "responsible for causing the victim's severe burns.'' San Antonio television station WOAI reports that the fire marshal says the juvenile has been charged with first-degree arson.
Officials responding to a fire Sunday afternoon found Kayden Culp burned. His mother, Tristyn Hatchett, says he was airlifted to a hospital and is in an induced coma. She says the burns cover 20 per cent of his body, from his ears to his belly.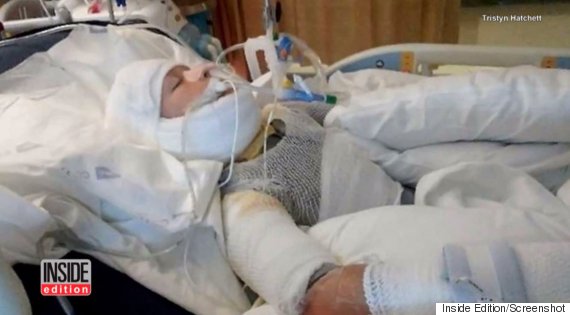 10-year-old Kayden Culp is in an induced coma after he was the victim of an arson attack. (Photo: Inside Edition/Screenshot)
Tanya Casper, Culp's aunt, told news station KHOU that the boy was lured into an open field where one boy dumped gasoline on him and another set him on fire.
Culp's mother says Kayden exhibits autistic behaviour but hasn't been diagnosed.
Kerrville is 113 kilometres northwest of San Antonio.
A crowdfunding page has raised more than US$60,000 in donations.
You can see more on the story in the video above.
With files from Emma Prestwich
Also on HuffPost
Saskatchewan's Most Wanted (July 2016)