Family photographer Kirsten Lewis is calling out Facebook CEO Mark Zuckerberg for the ridiculous double standards on his social media site.
The Denver, Colorado mom was recently banned from Facebook for 24 hours after she posted a link to her website that showed a photo of a three-year-old peeing in the sunroom of his house.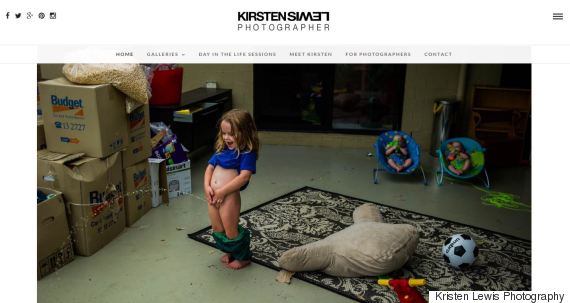 Lewis took issue with this ban for two reasons. First, she did not agree with the message she received "suggesting that my post was sexual in nature." And second, she found countless examples of Facebook content which violated the site's policy regarding nudity.
As a result, the 39-year-old photographer wrote a powerful open letter to Zuckerberg asking him to rethink his community standards.
"I spend anywhere between 24-72 hours with families simply documenting their life just as it is," Lewis wrote on her website. "Kids like to be naked. They like to feel free. They like running around the house, in the sprinkler, through their front and back yards, sans clothing. It's what they do."
Lewis revealed that she included the photo of the boy peeing in her portfolio "because it's fucking funny. And it's real life." While she did try to change the image when it appeared in her link, she was unable to do so.
"I figured because it was a link to a family photography website that it didn't break the rules, and I was not actually posting the image, but apparently that didn't matter," she said.
"There is absolutely NOTHING sexual about the picture that was flagged nor any other image I have in my portfolio, and to suggest otherwise is not only incredibly insulting it can also be damaging," she continued.
"Why does it matter what warning pops up when you flag and delete an image of mine? Because it suggests that I am violating the very essence of childhood... But beyond me, my biggest concern is what happens when this message appears to a parent who posts a picture of their own child being free, being innocent. You are in some way suggesting to them that the pictures of their own child are wrong. They are sexual and dirty."
Besides asking Zuckerberg's team to change its message to users when flagging "inappropriate" content, Lewis also addressed a very important point.
"I must ask that if we family photographers, mom, dads, etc, if we must all comply to your rules as stated in my original notification, that everyone else must as well. Correct? That means the poor workers in your DELETE and BLOCK department have some catching up to do," she wrote.
"You are in some way suggesting to them that the pictures of their own child are wrong. They are sexual and dirty."
The 39-year-old then took screenshots of three public Facebook pages as examples of sexual content found on the site. All pages are in violation of Facebook's community standards, which state: "We remove content that threatens or promotes sexual violence or exploitation. Our definition of sexual exploitation includes solicitation of sexual material, any sexual content involving minors, threats to share intimate images, and offers of sexual services."
Based on this, Lewis demanded that Facebook be held accountable for its actions.
"Facebook is seemingly inundated with sex workers soliciting their services from all over the world," she wrote. "I am someone expecting that there be some exposure and accountability regarding this double standard that I am experiencing... while there are individuals, pages, groups and photographs existing on your social media website CLEARLY not in compliance with the rules you have set forth."
Less than 24 hours after posting her open letter, Lewis received tons of positive feedback. On Facebook, users couldn't help but agree with the photographer.
"I always question people who see an innocent nude child and somehow relate that to sexualized. Makes me wonder," one wrote.
Another said: "Very well said and exactly what went through my mind a couple years ago when this happened to me."
This isn't the first time a mother has argued against Facebook's nudity policy. Back in 2014, North Carolina mom and photographer Jill White was banned from the site after she posted an image of her daughter recreating the famous Coppertone sunscreen ad. She was only able to re-upload the image after she censored it.
And earlier this year, Vancouver photographer Morag Hastings also argued against the hypocrisy of Facebook's policy after her childbirth photos were removed countless times. In particular, Hastings questioned why sexual photos of Kim Kardashian were allowed on Facebook, while birthing photos were not.
CORRECTION - Oct. 7, 2016: A previous version of this story incorrectly identified Kirsten Lewis as Kristen. All mentions have been corrected.
ALSO ON HUFFPOST: