Melania Trump may have chosen her words carefully when she spoke about her husband's comments on groping women — but failed to do the same when selecting her attire.
The wife of U.S. Republican presidential nominee Donald Trump apologized for comments he made in 2005, wherein he bragged that fame allowed him to "grab women by the pussy" if he wanted.
Mrs. Trump said Friday that her husband's words were "offensive," but urged voters to elect him anyway.
Fast forward to the presidential debate two days later, where Melania Trump wore a pink Gucci pussy bow shirt.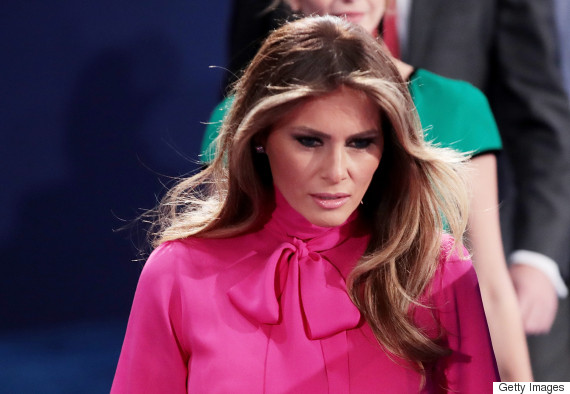 Republican presidential nominee Donald Trump's wife Melania Trump arrives at the town hall debate on Oct. 9, 2016 in St. Louis, Missouri. (Photo: Getty Images)
She didn't seem to get the irony.
Quite an interesting fashion choice for @MELANIATRUMP tonight. She's wearing the @gucci "pu$$y-bow" shirt #Debates2016 pic.twitter.com/jln9uXuqwt

— Politiquette (@politiquette) October 10, 2016
A campaign spokeswoman told CBS News that Trump's choice of blouse was not intentional.
(H/T New York Magazine The Cut)
Also on HuffPost