OTTAWA — A joint statement on the free trade deal between Canada and the European Union is aimed at mollifying its opponents, sources say — including restive Walloons in Belgium who are threatening to block the agreement.
The leaked draft of the five-page summary, now widely circulated, is supposed to accompany the transatlantic deal's final signing later this month in Brussels.
Stamped "Final Draft," the statement addresses contentious portions of the Comprehensive Economic Trade Agreement — including the investor-state dispute resolution mechanism — that were rewritten to save the deal from being rejected in Germany and France.
Now, opposition to the deal is festering among Belgium's French-speaking Walloons, the French-speaking inhabitants of one of three regions of the country that must ultimately approve the deal.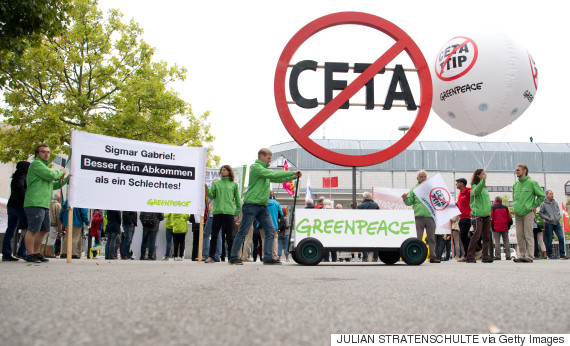 Activists demonstrate against the massive transatlantic CETA trade deal on Sept. 19, 2016 in Wolfsburg, Germany. (Photo: Julian Stratenschulte/AFP/Getty Images)
A senior European diplomat, speaking on the condition of anonymity, told The Canadian Press that the threat posed by the Walloons is the greatest obstacle to getting CETA done.
The diplomat, who was not authorized to discuss the matter publicly, says the statement was written in a way that explains the deal in reassuring, easy-to-read terms.
"We hope that this could help the Belgian government to convince its parliament that the deal is really a good one and the concerns are not really founded," the diplomat said, adding that it was also aimed broadly at politicians and members of civil society who oppose the deal.
"It covers a wide range of issues and it tries to put in simple words what is already in the agreement — but just to clarify."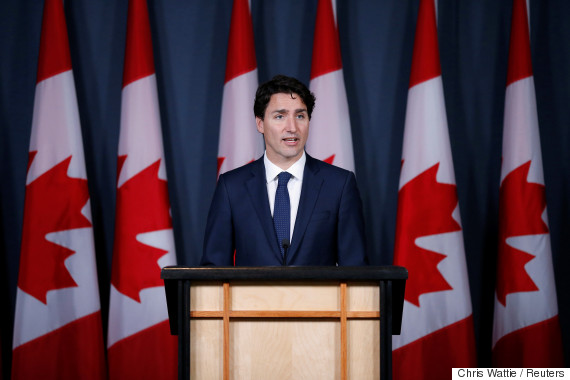 Justin Trudeau speaks during a news conference in Ottawa, June 22. (Photo: Chris Wattie/Reuters)
EU trade ministers are to meet next week and their approval of the deal is needed for a planned Canada-EU summit to take place later in the month where Prime Minister Justin Trudeau and his EU counterparts are expected to sign the deal.
"We are in active conversation and there is no final joint declaration at this time," said Alex Lawrence, spokesman International Trade Minister Chrystia Freeland, said of the five-page addition.
Freeland has been to Belgium twice to sell the deal, and her parliamentary secretary, David Lametti, is focusing specifically on the Walloons, he said.
Lametti met in Canada with a delegation of Walloon legislators this past weekend, and he will go back to the region later this week for more meetings with politicians there, said Lawrence.
"It's to assuage growing unease and opposition in Europe — largely over any deal (in the) future with the Americans based on the CETA template."
Lawrence Herman, a Toronto-based trade lawyer with Herman and Associates, said the five-page addendum has been under negotiation for months and even though it is a political statement, it could have legal force later on.
"I'm not sure it is final but I believe it's very close to what will be released before Trudeau goes to Brussels for signing," said Herman.
"It's to assuage growing unease and opposition in Europe — largely over any deal (in the) future with the Americans based on the CETA template," he added. "Hopefully it will allow the EU Council and Parliament to at least agree on provisional implementation for starters."
Provisional implementation means that as much as 90 per cent of the deal would come into force early next year — even without the ratification of each of the EU's 28-member countries, as well 10 regional governments, including the Walloons of Belgium.
"Our main concern now really is Belgium."
That approach has often been cited as an end run of sorts around the possibility of some member EU states blocking the deal if their parliaments don't ratify it.
Romania and Bulgaria have been upset with Canada in past because Ottawa continues to impose a visa on its travellers coming to Canada, an impasse that still hasn't been resolved.
Internal opposition within Austria has also caused angst in Canada.
The visa talks "are really going in the right direction to find a mutually acceptable compromise. So we are quite confident that Bulgaria, Romania and Austria will be one board," said the European diplomat.
"Our main concern now really is Belgium."
Also on HuffPost
Trudeaus In Japan, G7 Summit