For Jerry Howarth, the team isn't called the Cleveland Indians. It's just Cleveland.
And it's been that way since 1992.
Speaking on Sportsnet's Jeff Blair Show on Tuesday morning, the Blue Jays play-by-play announcer said he stopped using the team's name after he received a letter from a fan.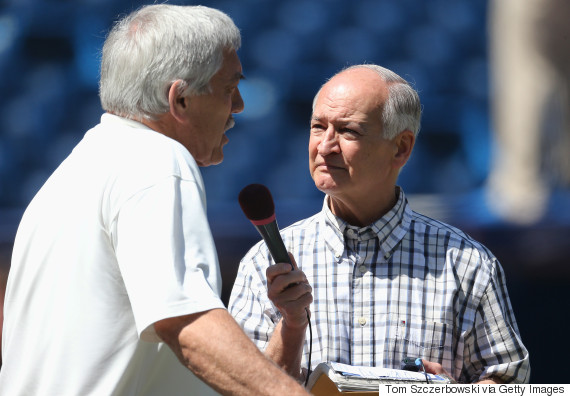 Jerry Howarth, right, interviews former player Ray Fosse in 2014 in Toronto. (Photo: Tom Szczerbowski/Getty Images)
The message came from a member of a northern Ontario First Nation after the 1992 World Series, Howarth said. It described how offensive the Cleveland team's name was, along with phrases like "pow-wow on the mound" that Howarth and others used at the time.
"He just wrote it in such a loving, kind way," Howard told the radio show.
"When you get a fan letter from someone who has lived it and breathed it, and said it in this very eloquent way... he touched my heart."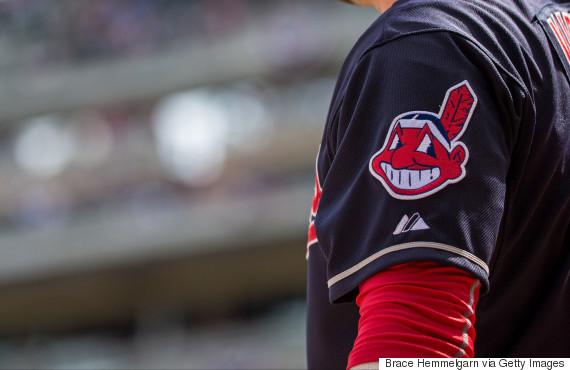 The Cleveland logo on a sleeve patch of the uniform. (Photo: Brace Hemmelgarn/Minnesota Twins/Getty Images)

Since then, Howarth has refused to call the Atlanta Braves by their name, too. He says that was his way of honouring the fan's culture.
Howarth's story drew a lot of admiration on Twitter:
Way to go Jerry Howarth, a legend in every possible way. https://t.co/GdO5EERlxn

— Andrew Bisson (@bizen09) October 11, 2016
A class act taking the right stand.
Great work, Jerry: https://t.co/eXUfYt1ER1 #BlueJays

— Brad Frenette (@BradFrenette) October 11, 2016
FANTASTIC @CBCAdrianH: #TorontoBlueJay announcer #JerryHowarth refuses to say Cleveland baseball team's name https://t.co/mNUrRXj7sa"

— Bob Rae (@BobRae48) October 11, 2016
Howarth's interview comes just days before the Blue Jays head into their American League Championship series against Cleveland, and it's already made some broadcasters think differently.
Jamie Campbell, a Sportsnet announcer, tweeted on Tuesday that he will also avoid using the team's name:
Like Jerry Howarth, I will attempt to avoid using the name of Cleveland's baseball team during our broadcasts. #NotYourMascot

— Jamie Campbell (@SNETCampbell) October 11, 2016
Radio announcer Bob Willette did the same:
As midday announcer @949TheRock I will only refer to them as Cleveland.#NotYourMascot Go @BlueJays cc @jessewente thx for educating me

— Bob Willette (@bobwillette) October 11, 2016
In 2014, Cleveland "demoted" its Chief Wahoo logo after public uproar began to spread, according to Yahoo Sports.
But this April, team owner Paul Dolan told the Cleveland Plain Dealer that the logo won't entirely be eliminated because it's part of the organization's history.
"We do have empathy for those who take issue with it," Dolan said. "We have minimized the use of it and we'll continue to do what we think is appropriate."
Also on HuffPost
Indigenous Team Name Protests