Toronto Maple Leafs rookie Auston Matthews just made history. On Wednesday, the 19-year-old became the first player to score four goals during his debut NHL game.
Despite the Leafs' loss against the Ottawa Senators, fans were in awe of Matthews' accomplishment. One in particular, his mother Ema, couldn't hold back tears.
"Those were tears of joy," she told Sportsnet. "I feel very excited. This is what Auston has been dreaming since he was 6, playing right here in the NHL, so he's doing it. So I'm very excited, very happy for him."
Awesome reaction from Auston Matthews' mom after his 3rd goal pic.twitter.com/c0zI823zzi

— Pete Blackburn (@PeteBlackburn) October 13, 2016
Both Ema and her husband Brian were at the game to cheer their son on.
I'm just gonna go ahead and assume that Auston Matthews mom & dad are enjoying the game! #GoLeafsGo #LeafsNation #Leafs #AustonMatthews #TML pic.twitter.com/g8PReEBOdA

— Lorraine McMillanG (@bluejaylover49) October 13, 2016
"It was pretty special to have my parents here and have them share that moment with me," the Arizona teen told ESPN about his impressive game.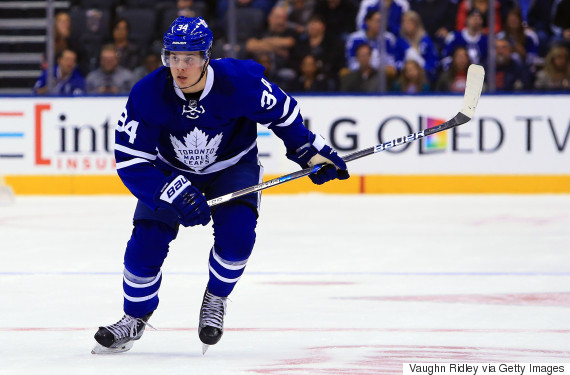 Matthews was the No. 1 pick in the 2016 NHL Draft in June. Based on his historic debut game, it looks like the teen has a long career ahead of him.
Following the match, Leafs head coach Mike Babcock said: "Since I've been the Leafs coach, that's the best night I've had since I've been here by 10 miles. Not even close."
Also on HuffPost
Celebs Likely To Pass On Their Love Of Hockey To Their Kids