It's come to this in Vancouver: housing so unaffordable that it's pushing people on to the street.
That's according to a joint report by the University of Victoria (UVic) and the Union Gospel Mission (UGM), which says the city's affordability issues are exacerbating homelessness like "never before."
UGM spokesperson Jeremy Hunka calls it a "double-edged sword" that "is both pushing people into homelessness and preventing others from exiting homelessness."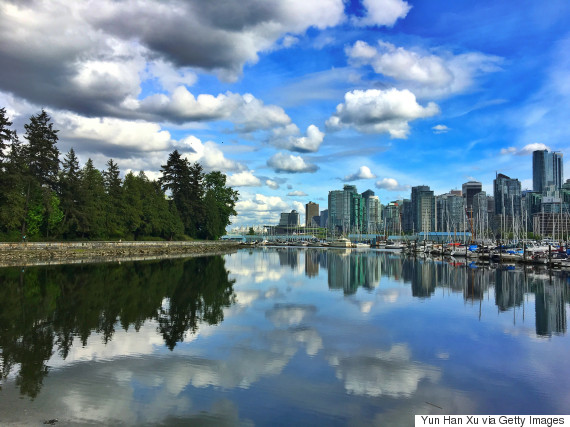 Vancouver. (Photo: Yun Han Xu/Getty Images)
The report found that emergency shelter occupancy throughout the Vancouver region is near capacity, at 97 per cent, and that the proportion of women living in such facilities grew to 32 per cent in 2015-16, from 28 per cent in 2011-12.
This happened as Vancouver became less and less affordable over the past six years.
Average rent for a bachelor suite in the Vancouver region was $811 per month in 2010; it has since grown to $938.

Vacancy rates don't provide much happier news. For unites that cost less than $750 a month, the vacancy rate dropped to 0.7 per cent in 2015, from 1.6 per cent in 2014.
And while the number of total bachelor apartments grew from 11,386 to 11,627 from 2010 to 2015, the availability of affordable units just keeps falling.
Meanwhile, the supply of bachelor units you can rent for over $1,000 has kept on growing.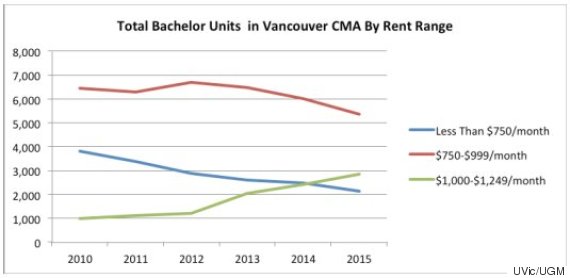 Demand for subsidized housing is also firing up throughout the region.
The Housing Registry is a tool that allows people to apply for social housing. It had 8,968 Metro Vancouver applicants in 2012; it now has 10,278 people waiting to find housing, a 15 per cent increase in four years.
Senior applications represented the bulk of new applications, having grown by about 1,000, or 38 per cent, from 2012 to 2016.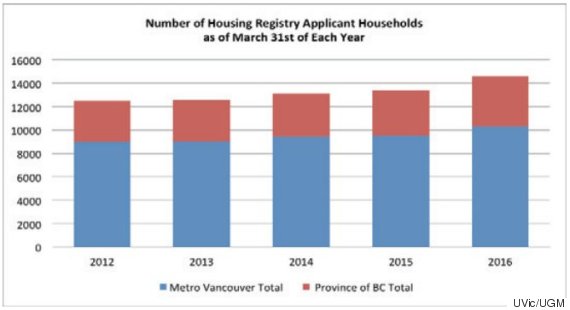 And all this is happening as BC Housing, a provincial agency that helps renters and provides emergency shelter, keeps building more units to meet various needs in the Vancouver region.
BC Housing had 41,079 subsidized units in 2011-12. That grew to 42,171 in 2015-16.
Those units are designed to help populations such as the homeless, seniors, low-income families and people with special needs.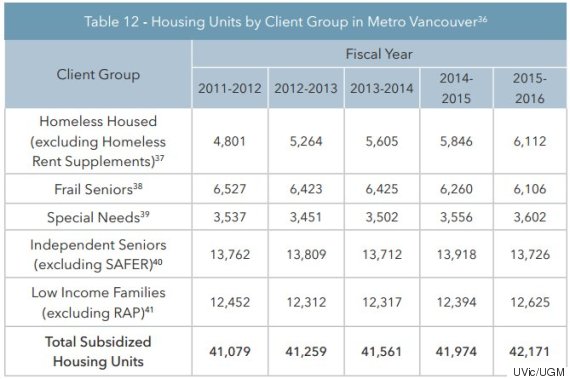 "The question is not whether we are doing something but whether we are doing enough," report co-author Dr. Bernie Pauly said in a news release.
"When we look at the current numbers of people who are homeless, the answer is no. Sadly, this makes the job of moving off the streets difficult."
The report gleaned data from government agencies and other places related to incomes, cost of living, rental housing vacancy, supply and the demand for such homes within the city.
A crash would bring little relief
Research released by Royal Bank of Canada (RBC) this week suggests that people shouldn't expect a housing crash to fix the problem.
"A 'collapse' in prices often is meant to be a 25 per cent to 30 per cent decline. In the case of the Vancouver area, however, a drop of this order would roll the clock back only nine or 12 months since prices have escalated by more than 30 per cent in the past year alone," economist Robert Hogue wrote.
Vancouver's housing market is weakening, and is expected to enter a "cooling phase" in the spring, he said.
But a "wholesale collapse" is unlikely because "economic and demographic underpinnings for the market remain solid," and the city is still "well-positioned to attract wealth and investment despite the new tax on foreign buyers."
Vancouver's lack of affordability arises from a growing population, a strong economy and an ingestion of wealth into an area with little land to build on, Hogue added.
Also on HuffPost
Expensive Vancouver Homes Owned by Students (September 2015)