Former immigration minister Chris Alexander says his decision to run for the leadership of the Conservative Party is not about restoring his personal reputation after the last election but rather about what he can do for the country.
"It's certainly not about me. It's tough to lose," he told CBC News Network's Power & Politics. "Failure is part of life. Failure is part of any successful career and we, all of us as Conservatives, have a lot to learn from last year's experience."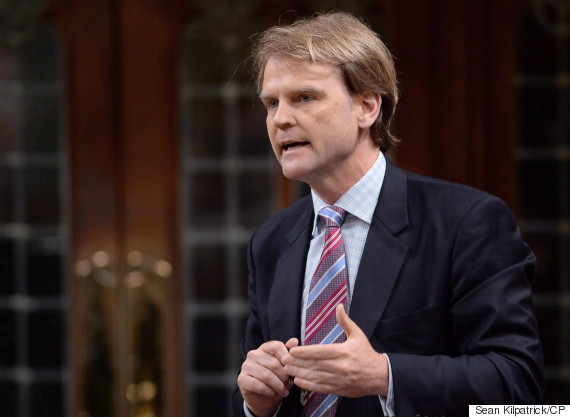 Chris Alexander speaks in the House of Commons on May 25, 2015. (Photo: Sean Kilpatrick/CP)
Alexander said he was motivated to join the race because he believes in public service, first in his 18 years as a diplomat and then as a member of Parliament. And despite losing his seat in the last election, he said, he has a "federal vision that is larger than the one on offer, certainly, in the current government."
Alexander served as Canada's ambassador to Afghanistan before joining the Conservative Party and running for Parliament. He was promoted to immigration minister, and his political ascendancy promised to be long and fruitful.
That meteoric rise, however, was derailed during a lacklustre election campaign that began with Alexander accusing Power & Politics host Rosemary Barton of ignoring the plight of Syrian refugees in a now infamous televised exchange. 
Alexander later acted as one of two figures promoting the government's barbaric cultural practices tip line, which prompted widespread condemnation as an attempt to start a culture war. Alexander eventually lost his seat in the election and the tip line died with the Conservative government. 
But on Thursday Alexander stopped short of dismissing the tip line as a fundamentally wrong or divisive, and instead said the issue had merit but was badly communicated.
"It was extremely poorly packaged," he told Barton. "It was the wrong message for that day, absolutely, but we shouldn't forget the underlying issue of forced marriage."
Alexander had launched the tip line with another Conservative leadership candidate, Kellie Leitch. The announcement fit into a wider strategy of using identity politics to help the Conservatives define themselves as different from their rivals on a number of issues.
Tory leadership contenders, so far
Candidate who has declared, registered and paid the full fee: Michael Chong.
Candidates who have declared and registered: Maxime Bernier; Kellie Leitch; Deepak Obhrai; Andrew Scheer; Brad Trost.
Potential candidates who have declared only: Dan Lindsay; Pierre Lemieux; Adrienne Snow.
Expected to declare soon: Erin O'Toole; Steven Blaney; Andrew Saxton.
Others who have mused about running but not declared: Kevin O'Leary; Rick Peterson; Lisa Raitt.
One such issue was the Tories' defence of their policy to revoke the citizenship of dual nationals convicted of high treason or terrorism. Another was the government's decision to pursue, to the Supreme Court, its ban on face covering garments, such as the niqab, during citizenship ceremonies.
When asked by Barton about why he fronted the tip line announcement in the first place, Alexander said the timelines were very short, and he was more focused on the issue of forced marriage, but admitted, "We didn't do ourselves proud."
The former MP concedes the use of identity politics in the last election was "damaging" to his party and that "issues that were relatively minor issues" — face coverings in a citizenship ceremony and strengthening citizenship — were "magnified into big issues, which they never should have become," he said.  
Alexander said the Conservatives also made some simple mistakes by not getting the message across about the Conservative government's strong record on the economy, immigration, international affairs and the environment.
"I don't think we ran a campaign that spoke to all Canadians," he said. "I think we left a lot of urban voters cold, new Canadians who had been with us for many years, who understood the improvements we made to the immigration system, felt pushed away."
"In short, we weren't talking about the future. We were sitting back a little on our laurels and in politics you can't do that," he said.
Alexander is the latest in a crowded field of Conservative leadership contenders. On Friday the MP for Durham, Erin O'Toole, is gathering with his family in Bowmanville, Ont., to make a "special announcement."
Watch the full interview in the player below.
Also on HuffPost
Conservative Leadership Candidates