The movement was started by Spanx CEO Sara Blakely, who got the idea when she was pregnant with her son, Lazer. Blakely got friends to paint her belly and help her take photos for her husband.
Thus, Blakely created a book called "The Belly Art Project," which is a collection of photos of over 100 moms-to-be celebrating their bumps. And of course, all bellies are painted in beautiful, fun designs.
All of the book's proceeds go to Every Mother Counts, a nonprofit charity founded by model Christy Turlington, which raises funds to support maternal health programs around the world.
A number of celebrity moms were involved in the project, including Kate Winslet, Alyssa Milano, Milla Jovovich, Elsa Pataky and Molly Sims.
"Kate [Winslet] did Earth on her own belly," Blakely told ET Online. "She was so particular about England being well represented that she actually grabbed the paintbrush and started painting her own belly."
The Spanx CEO also revealed that some celebs posed with more than one design: "Alyssa Milano did three looks. She did the peace sign, the snow globe and the baseball, because Alyssa Milano is really into baseball."
Surprisingly, the book also features one celebrity dad with his own painted belly: Warren Buffett. According to Blakely, the 86-year-old billionaire volunteered to be part of the project, despite not being pregnant.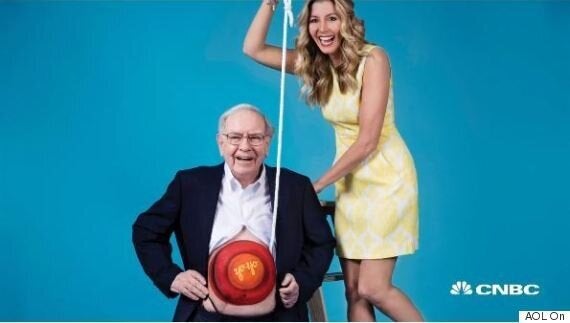 Recalling her conversation with Buffett, Blakely told CNBC, "[Buffett] grabbed his belly and said, 'Don't you have enough here to work with?"
Watch the video above to see celebs with their painted bellies.