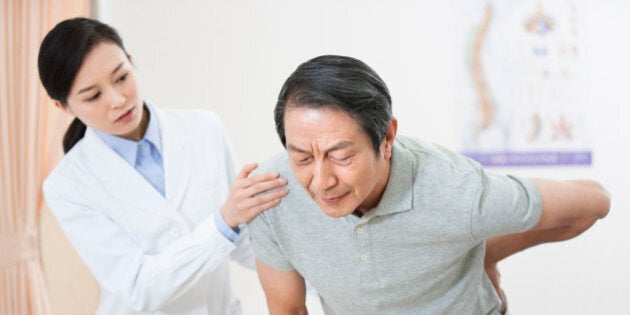 Back pain can be a real pain in the back. It's a common affliction we all face at certain times in our lives and affects people in very different ways. Most back pain is benign -- a result of working out, sleeping poorly, sitting in a terrible chair or poor posture. The Mayo Clinic notes that most back pain gets better within a few weeks without treatment and in most cases, an over-the-counter remedy works. But sometimes that discomfort can be a symptom of something else. So at what point should you seek medical help? In partnership with Robax, we list the five signs.
Fever is a sign your body is fighting off an infection. You get them when you have the flu or other viruses, so if you have back pain accompanied by a fever, it's time to make an appointment with a medical professional.
If you've been involved in any type of accident, you need to go to the hospital to ensure you're not injured. Even if you think you're fine, it's important to be assessed by a doctor. Research also notes that back pain can be a symptom of an injury on another part of your body like your abdomen or lungs. A professional knows the difference.
Your fingers and toes might tingle as a result of the cold but that's a different type of sensation than the one you need to be concerned about. If you're suffering from back pain, especially pain that's located around the spine, and you feel numbness and tingles in your legs, it can be a sign of nerve damage.
If your weight loss is accompanied with constant back pain and loss of appetite, that could be a symptom of something more severe than a pulled or sore muscle.
Most back pain resolves itself within a few weeks, but if your back pain lingers for more than six, make an appointment with your doctor. While most back pain is benign and can be attributed to our sedentary lifestyle, you know your body best. If you think your pain is more than just poor posture or a bad chair, don't Google your symptoms. Instead, pick up the phone, call your doctor and get checked out.
Robax not only stops pain but also reduces back spasms by relaxing tight muscles. We have your back.
This article may contain information related to exercise and fitness and/or general wellness information. It is not intended as a substitute of any kind for professional medical advice, diagnosis or treatment of a qualified professional as required. Speak to your healthcare professional before making any changes to your lifestyle, or beginning or discontinuing any course of treatment. Never disregard professional medical advice or delay in seeking it because of something you have read in this article.