Millennials have had an uneasy relationship with capitalism.
The 2008 financial crisis resulted in a global economic meltdown that has members of Generation Y being more careful about building up debt than older demographics — in the U.S., anyway.
But they're nevertheless facing issues such as high credit, low employment and growing housing costs.
So it shouldn't surprise anyone that young people hold more favourable views of other economic systems like communism and socialism, as a new survey indicates.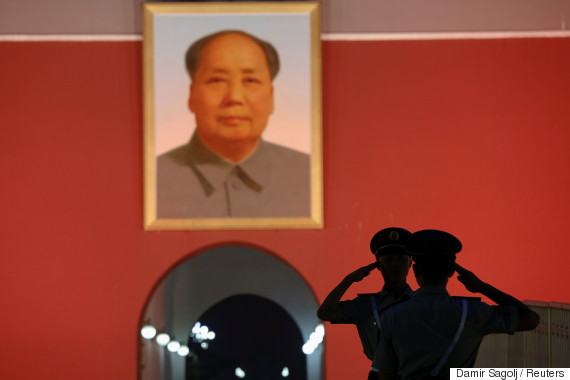 Paramilitary policemen salute each other under a giant portrait of late Chinese Chairman Mao Zedong on the Tiananmen gate in Beijing, China on June 3, 2016. (Photo: Damir Sagolj/Reuters)
Socialism is an economic system based on the idea of public ownership of the means of production, as defined by Investopedia.
Communism, meanwhile, is based on a similar ownership model, though it also seeks to eliminate social classes.
Capitalism implies private ownership of capital goods and means of production.
Generational differences
Millennials and members of Generation Z have fonder views of communism and socialism than Baby Boomers and mature adults, said a study released by the Victims of Communism Memorial Foundation on Monday.
The survey found that 38 per cent of millennials hold "very unfavourable" views of communism, fewer than the average across all age categories (57 per cent).
Fewer millennials also have very unfavourable opinions of socialism (15 per cent), compared to a 30 per cent average.
The survey found a similar dynamic around capitalism. Only 42 per cent of millennials have a positive view of the system, compared to 54 per cent of baby boomers and 71 per cent of mature adults.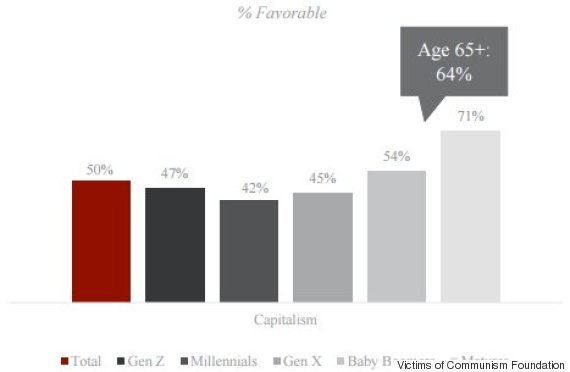 The relatively positive view of communism could be explained away by a lack of knowledge, if the survey is to be believed.
It showed that many millennials are unfamiliar with communist figures such as Mao Zedong, the former chairman of the People's Republic of China; Che Guevara, a guerrilla leader in the Cuban Revolution; and Vladimir Lenin, the revolutionary who established the Union of Soviet Socialist Republics (U.S.S.R.)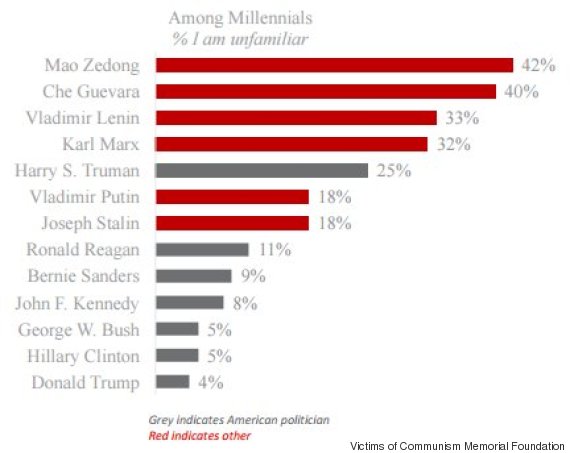 But the reasons could also be ideological.
The survey found that younger respondents were less receptive of ideas proffered by minds such as free market economist Milton Friedman, who said, "A society that puts equality before freedom will get neither. A society that puts freedom before equality will get a high degree of both."
Younger people were more receptive to Bernie Sanders' ideas: "A nation will not survive morally or economically when so few have so much, while so many have so little."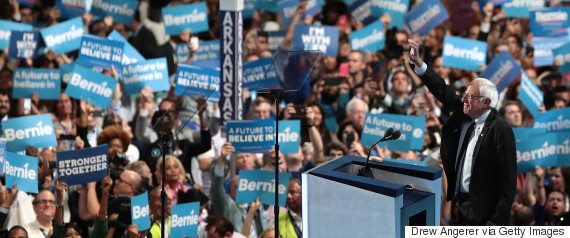 Bernie Sanders on the first day of the Democratic National Convention on July 25 in Philadelphia. (Photo: Drew Angerer/Getty Images)
The survey derived its results from 2,300 people aged 16 and over in the U.S. who completed an online questionnaire.
And it's far from the first to show that millennials don't have such a rosy view of capitalism.
A Harvard University study released earlier this year showed that only 42 per cent of Americans aged 18 to 29 support capitalism, The Washington Post reported.
It wasn't clear what alternative system they supported, however. Only 33 per cent of them said they supported socialism.
And capitalism has different definitions among different people, pollsters said.
Also on HuffPost