Federal governments. They grow up so fast.
It's been one year since Justin Trudeau's election victory, a win that saw the Liberals jump from third-party status in the House of Commons to form a majority government.
A lot has happened since. A lot hasn't happened.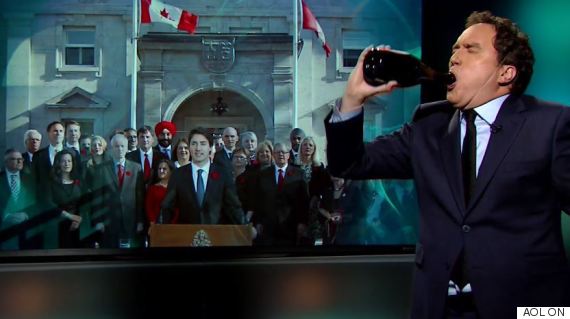 "This Hour Has 22 Minutes" star Mark Critch takes a chug of that good stuff to celebrate the Liberal government's first year. (Photo: AOL ON screenshot)
To help us look back at the Liberals' time in power in so far, "This Hour Has 22 Minutes" star Mark Critch has a helpful entertaining summary of the government's year.
"They're one already! They're so cute at that age, aren't they?" he says in an episode airing Tuesday night, pointing at a photo of Trudeau.
Critch then goes over the feds' "first steps" (their swearing-in ceremony) as well as their "missteps" — when Health Minister Jane Philpott had to repay more than $3,500 she spent on a limo service owned by a Liberal supporter. Or when they spent thousands of dollars on a photographer's services at the climate summit in Paris.
You get the picture.
You can watch the "This Hour" segment in the video embedded above.
Also on HuffPost
Justin Trudeau: The Global Town Hall