Toronto Blue Jays fans remain cautiously optimistic after the team kept its playoff run alive in a do-or-die game Tuesday.
Die-hard fan Mike Calderon says the Blue Jays can still win the series after their 5-1 victory over the Cleveland team in Game 4 of the American League Championship Series.
It is the first win for the Blue Jays against Cleveland, but they still trail the Indians three games to one in the best-of-seven series.
"We can win three more games easy,'' Calderon said. "It can't be that rare to come back after being down 3-0, right?''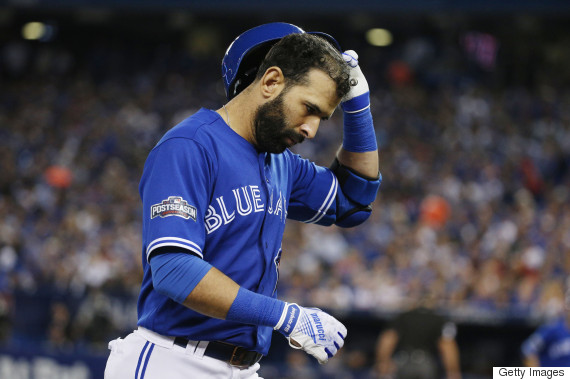 Blue Jays Jose Bautista pops out during the 5th inning of play in Game 4 of the ALCS between Cleveland and the Toronto Blue Jays at the Rogers Centre, Oct. 18, 2016. (Photo: Toronto Star via Getty Images)
Calderon is wrong. The Boston Red Sox are the only team in Major League Baseball history to come back from a 3-0 deficit. That is out of 34 chances.
That win came in 2004 in a memorable ALCS win against the New York Yankees, after which the Red Sox went on to win the World Series. Boston's manager for that series was Terry Francona, who is now in Cleveland's dugout, managing the Indians.
But Blue Jays fans didn't want that statistic thrown in their faces after the win.
"I don't care about history,'' said Jerry Brown, who admitted his optimism may stem from several beers he "crushed'' during the game.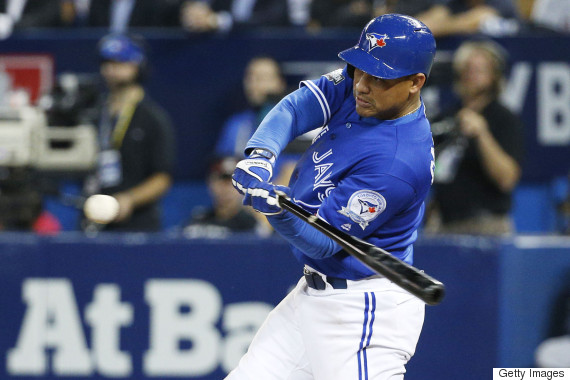 Ezequiel Carrera hits an RBI single during the 4th inning of play in Game 4 of the ALCS. (Photo: Getty Images)
"Listen, we got the offence going now and we can ride that train all the way to the Series.''
Until Tuesday's win, the team had only scored three runs in three games.
Melissa Rodriguez sounded like a veteran ballplayer, spouting cliches as she walked out to the unusually hot, humid air outside Rogers Centre.
"Say what you will about the history, but we've got a chance,'' she said.
Meanwhile, Sam Peterson was more realistic as he evaluated his beloved Jays, saying they'll never win this series.
"I'm a man of science and the numbers probably don't lie,'' he said. "We're done, but it was a pretty good run. There's always next year and all that garbage.''
Also on HuffPost
World Series Blue Jays Now