They may be from their parents' generation, but Gord and Mike Downie's message about the horror of residential schools hit home for the young crowd at WE Day Toronto.
The beloved Tragically Hip singer, who has terminal brain cancer, sang to the thousands-strong crowd of Canadian students gathered at Toronto's Air Canada Centre for WE Day Wednesday. The event celebrates the year of community service they performed to earn entry to the star-studded event.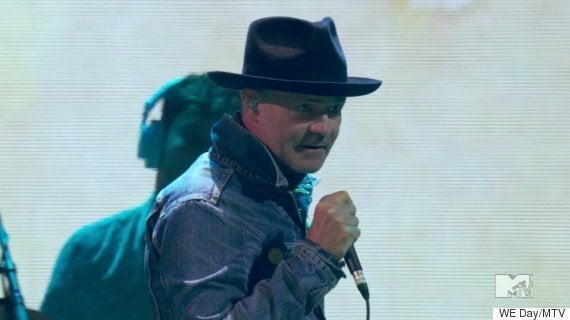 Downie's performance was full of emotion, his voice both strong and vulnerable as he sang the "The Stranger," a song from his new project, "The Secret Path."
The album and graphic novel tell the story of Chanie (Charlie) Wenjack, a young Ojibway boy who escaped from a residential school in Kenora Ont. in 1967, and died of exposure as he tried to walk home to his home 600 kilometres away in Ogoki Post, Ont.
Downie acted out what it might have been like for Chanie as he walked alone on the railroad tracks, only to eventually die in the cold.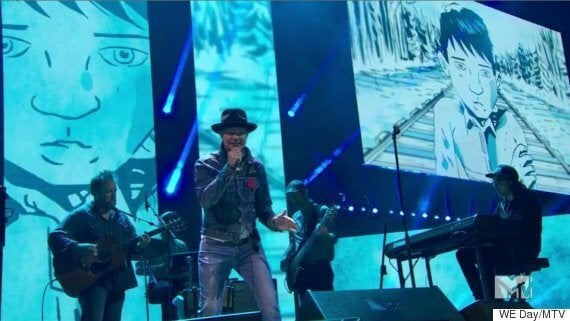 After the performance, Downie's brother Mike came onstage and delivered some sobering statistics to the crowd.
Roughly 20,000 Indigenous students died in residential schools in Canada, according to Justice Murray Sinclair, head of the Truth and Reconciliation commission, Downie said.
Twenty-thousand students — about the same number of kids in attendance at the WE Day event.
"Twenty thousand ... Kids like you, who did nothing wrong," Mike Downie said.
Downie said although the last residential school closed in 1996, Indigenous teens in remote areas still have to move away to cities to attend high schools.
"These teenagers like you need to be home with their families," he said. "These communities need high schools, and they need them now."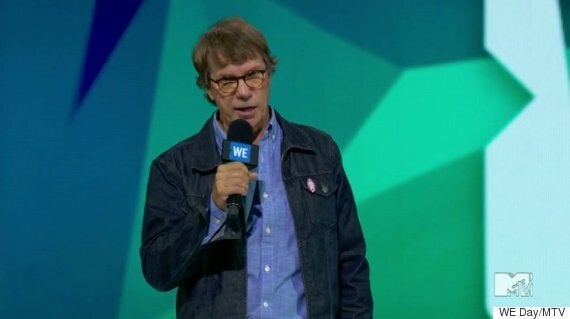 Downie then introduced Pearl Wenjack, Chanie's sister and a survivor of residential schools, who performed a stunning, traditional prayer with the Downie brothers and Wenjack's son holding hands beside her.
The stadium went silent as students stood up and held hands.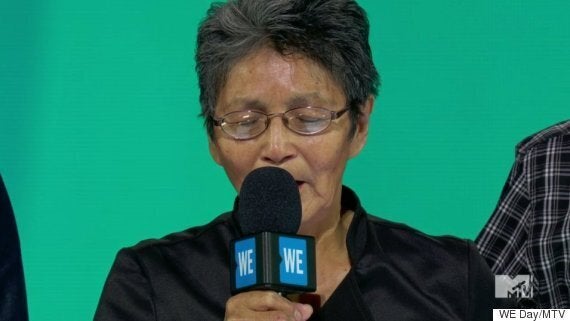 "This generation —your generation — is going to get it right," Mike Downie said, before asking the crowd: "Can you help? Will you help? Will you?"
The Tragically Hip frontman released "The Secret Path," an album and graphic novel co-written with Jeff Lemire, on Oct. 18. An by the next day, the first pressing of the album was already sold out online.
Downie will perform on Oct. 21 in Toronto with all proceeds going to reconciliation, according to the album's site. The CBC will air "The Secret Path" movie on Oct. 23, the 50th anniversary of Chanie Wenjack's death.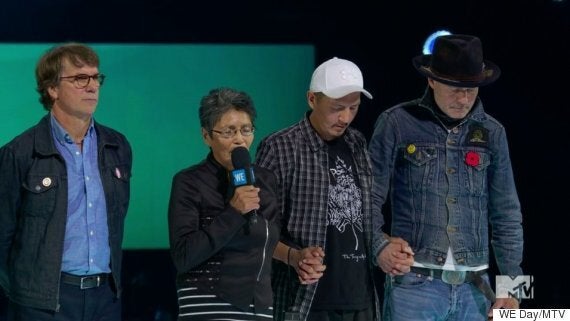 WE Day Toronto was notably Canadian-focused this year, including mental health advocate and mother of the prime minister, Margaret Trudeau, YouTube star Lilly Singh, Olympian superstar athlete Penny Oleksiak, and supermodel and activist Winnie Harlow.
They were joined by international stars like soca star Machel Montano, singer and actress Zendaya and former American Idol judge Paula Abdul. WE Charity was co-founded by Canadian brothers Craig and Marc Kielburger.