Conservative MP Shannon Stubbs wasn't pleased by Finance Minister Bill Morneau's suggestion she doesn't talk to her constituents, so she called him out for his tone.
"Thanks for the mansplain," Stubbs said in question period in the House of Commons on Tuesday.
A "mansplanation" is a portmanteau of "man" and "explanation." It's loosely defined as a condescending or patronizing remark a man says to the woman under the presumption she is ignorant about a topic.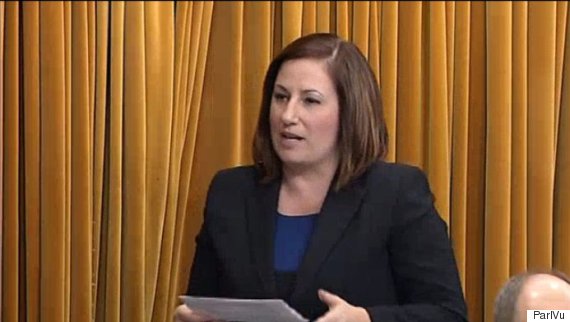 Lakeland MP Shannon Stubbs speaks during question period on Oct. 18 in the House of Commons. (Photo: ParlVu)
The rookie Alberta MP repeated her urge to the Liberal government to consider the effect a federal carbon tax would have on the province's "dire" economic situation.
"Medicine Hat's food bank use is up by over 300 per cent this year over last. Another program for new mothers ballooned from 10 to 256 users during the same time," she said.
Morneau responded by asking Stubbs to actually talk to Albertans.
"Because she would find that they have actually had a reduction in taxes this year, which has gone to help their families," he said before getting cut off by jeers from opposition benches.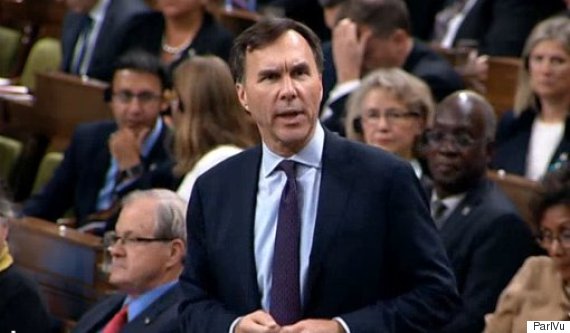 Finance Minister Bill Morneau responds to a question in the House of Commons on Oct. 18. (Photo: ParlVu)
Morneau deepened his defence by beginning to list national changes including the Canada child benefit that have had an "enormous" effect on Canadians. He was cut off by the Speaker of the House just as he began to talk about EI changes.
Stubbs wasn't satisfied by Morneau's answer — that's when she accused him of mansplaining.
The testy exchange happened to have occurred on Persons Day — an occasion marking 87 years since women's personhood was officially recognized in the Canadian Constitution.
A 'mansplain' from down under
Stubbs' utterance of the word "mansplain" appears to be the first time it's been recorded on the official question period record.
Thought it may be the first time it's been said on official Canadian Parliamentary record, an Australian politician did the same thing last year during her government's own question period.
Tanya Plibersek, deputy leader of Australia's Labour Party, asked Prime Minister Malcolm Turnbull if he will restore foreign aid program funding after significant cuts.
The prime minister responded by suggesting Plibersek was wasting question time, saying if she wanted a "serious answer," she would have to ask a "serious question."
"Mr Speaker, I'd rather have an answer than the mansplaining by the prime minister," she said at the time.
Also on HuffPost
Canadian Provincial Economic Growth, 2015-2017