An early morning text was the first warning to Jason Caldwell that something was wrong.
"Jason. Do you know where your boys are?''
He'd just had dinner with Evan and Jordan, 17-year-old twin brothers, the night before. He hugged them goodbye and they went out the door with their friends from church.
But they hadn't come home before he and his wife went to bed and weren't home when his phone woke him up.
"As we stood in the waiting room at the Foothills Hospital, we soon came to realize that our boys weren't there,'' recalled Caldwell.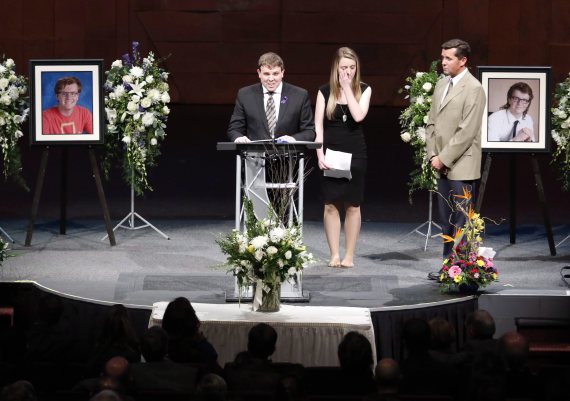 Sister Katie Caldwell looks on as father Jason Caldwell delivers the eulogy at a memorial service for her twin brothers Evan and Jordan Caldwell. (Photo: Larry MacDougal/CP)
"I was taken out to a police cruiser, driven down the hill to the medical examiner's office. I have never felt more powerless in my whole life than the moment I fell to my knees between the cold, lifeless bodies of my sons.
"Death is the ultimate reality check.''
Caldwell's sons died in an after-hours accident sliding down a luge-bobsled track in February. He shared the story of what his family went through at the Calgary Leadership Prayer Breakfast on Thursday.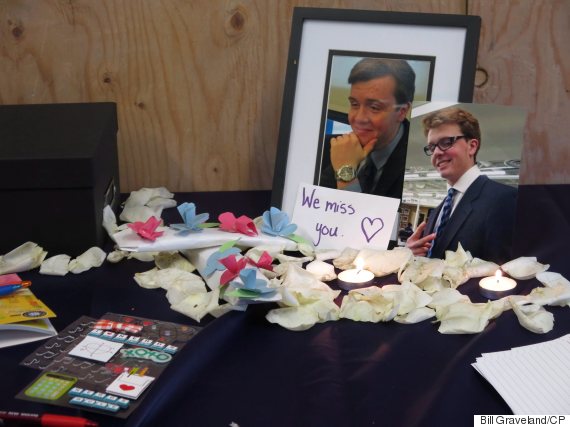 A memorial table was set up at Westmount Charter School in Calgary for Evan and Jordan Caldwell. (Photo: Bill Graveland/Canadian Press)
The two boys were part of a larger group that snuck onto the grounds of the WinSport facility in Calgary with plastic sleds and headed down the icy track, which was built for the 1988 Olympics.
They hit a gate, set up to divide the bobsled and luge runs, at high speed and died almost instantly. Six other young men were taken to hospital.
Caldwell said the friends came up with the plan at a restaurant that night.
"As they sat around a restaurant table with several other teenagers, a dreadful idea took shape,'' he said.
"None of the parents had any idea what kind of catastrophe was about to take place."
"The zest for life and adventure had gotten the best of them. Those invincible, undeveloped teenaged brains never considered or calculated the danger. None of the parents had any idea what kind of catastrophe was about to take place.''
Caldwell said the family has received a lot of support. But there's also been criticism on social media — the boys were trespassing. Why didn't their parents know where they were?
"My wife Shauna and I would be the first to agree and sincerely apologize,'' Caldwell said.
"We were sleeping while tragedy unfolded. Those boys had no business being there that night and they paid the ultimate price.''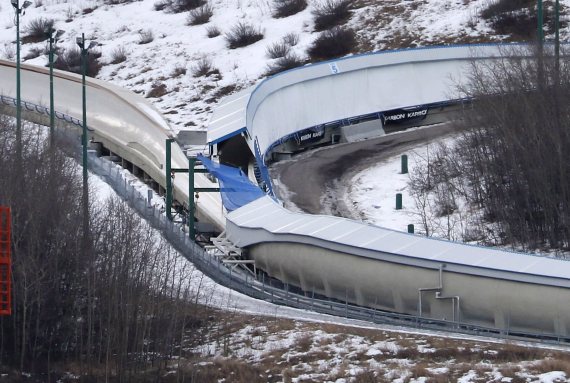 A tarp covers the intersection of the bobsled and luge tracks shortly after the accident took place at Canada Olympic Park in Calgary. (Photo: Larry MacDougal/Canadian Press)
Caldwell said his family's faith has sustained them and he knows his boys are in a better place.
"Life changes in the blink of an eye,'' he said.
"As I kneeled on the concrete floor of the medical examiner's office, all I could say is thank God that I don't have to worry about where my sons are.''
Also on HuffPost