When you stroll into a beauty salon, you'll hear many women asking for a classic shellac manicure with jeweled details and chic nail art.
But for some women in Mexico, their current mani request is one that has us screaming.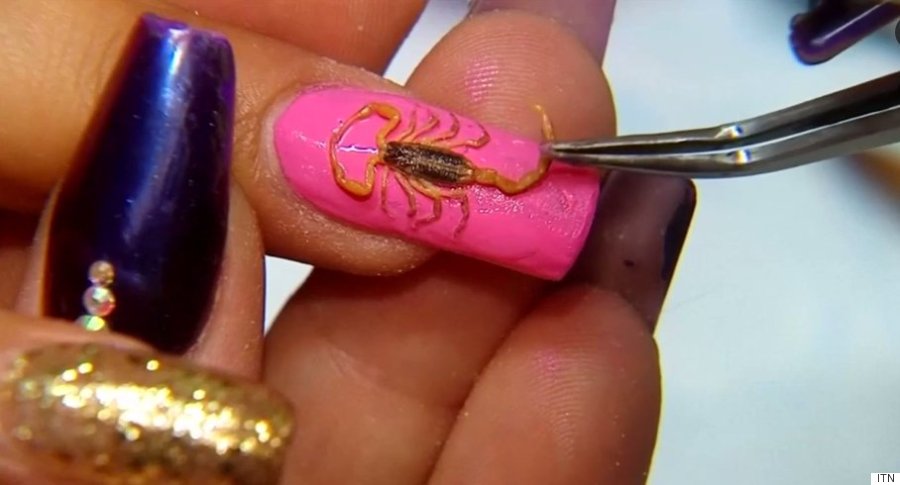 Yup, that's a scorpion manicure.
In the video above, Lupita Garcia, scorpion artisan and creator of the trend, talks about how gluing a dead scorpion to one or two acrylic fingernails has become Mexico's newest beauty craze.
Often offered at handicraft fairs in Texcoco, outside of Mexico City, scorpion manicures use baby Centruroides Suffusus scorpions, which are killed with bug spray before landing on the manicurist's table.
And FYI, the stingers are left on.
Even though scorpions are known to be highly venomous and their strings can cause fatality, the creatures used for the nail design are dead and applied with tweezers. However, PopSugar reports you can still be exposed to venom and suffer from swelling and a accelerated heart rate.
This is a trend we think we'll pass on.
To see how you can get this oh-so-scary look, check out the video above!
Follow Huffington Post Canada Style on Pinterest, Facebook and Twitter!
Also on HuffPost
Seriously Weird Beauty Treatments