Once upon a time, a California couple was shooting their engagement photos in a forest, and happened to stumble upon a black metal rock band.
So naturally, they asked them to join.
John Awesome and Nydia Hernandez were posing for engagement pictures with photographer Janet Wheeland last week, when they noticed a troupe of long-haired guys dressed in all black, ABC News reports.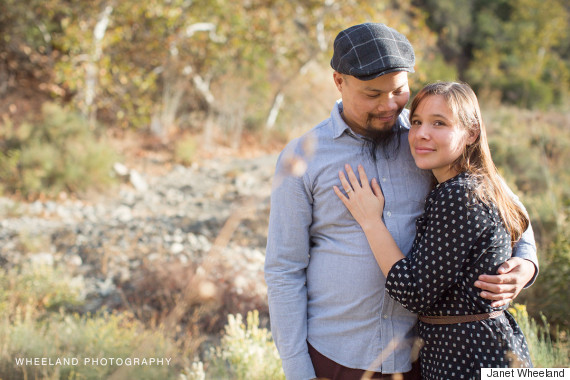 A shot from John Awesome and Nydia Hernandez's planned engagement shoot. (Photo: Janet Wheeland)
Local rock band, Coldvoid was in the same spot, doing the same thing as the couple. They were shooting promo photos, fully decked-out in KISS-style face paint, and using the moon as an eerie backdrop.
"We just randomly thought it would be a funny idea if we could get them to be a part of our engagement shoot," Awesome tells ABC News. "So we approached them and asked and they more than happy to accept! Super nice people. I seriously can't make this stuff up."
Wheeland struck up a conversation saying, "Looking good guys!" ABC reports. After chatting a bit, the band agreed.
"It was a perfect, spontaneous finale. We couldn't have planned it better."
The four musicians toted props from their shoot — swords and a flaming candle holder — and got in position behind the couple. Wheeland snapped away, and one photo from the bunch has since gone viral on Reddit.
Coldvoid band member 'Dysmal' tells Buzzfeed they were "happy to do it."
According to Buzzfeed, Awesome used to be in a metal band himself, making this chance encounter seem like fate.
The shoot ended up being the perfect collaboration — Wheeland even took a few shots for the band solo.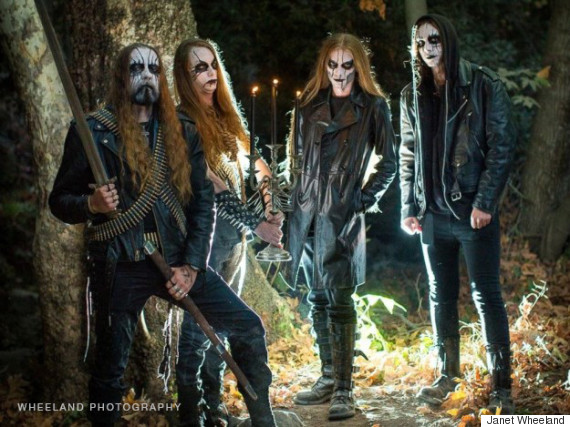 Photographer Janet Wheeland took a few photos of local band Coldvoid after a chance meeting (Photo: Janet Wheeland)
The photographer tells Buzzfeed she was more than happy with the chance encounter: "It was a perfect, spontaneous finale. We couldn't have planned it better."
Also on HuffPost:
8 Wedding Photographers Around The World Share 50 Of Their Absolute Favourite Shots