Donald Trump's own hotel business seems to be turning its back on on the Trump brand.
Trump Hotels has announced it plans to launch "Scion," a new hotel brand targeted at younger consumers. The company's existing hotels will retain the Trump brand, but new hotels under the Scion brand will begin opening in early 2017, the company says.
That may have something to do with reports that traffic to Trump-branded hotels is on the decline amid Donald Trump's inflammatory presidential campaign.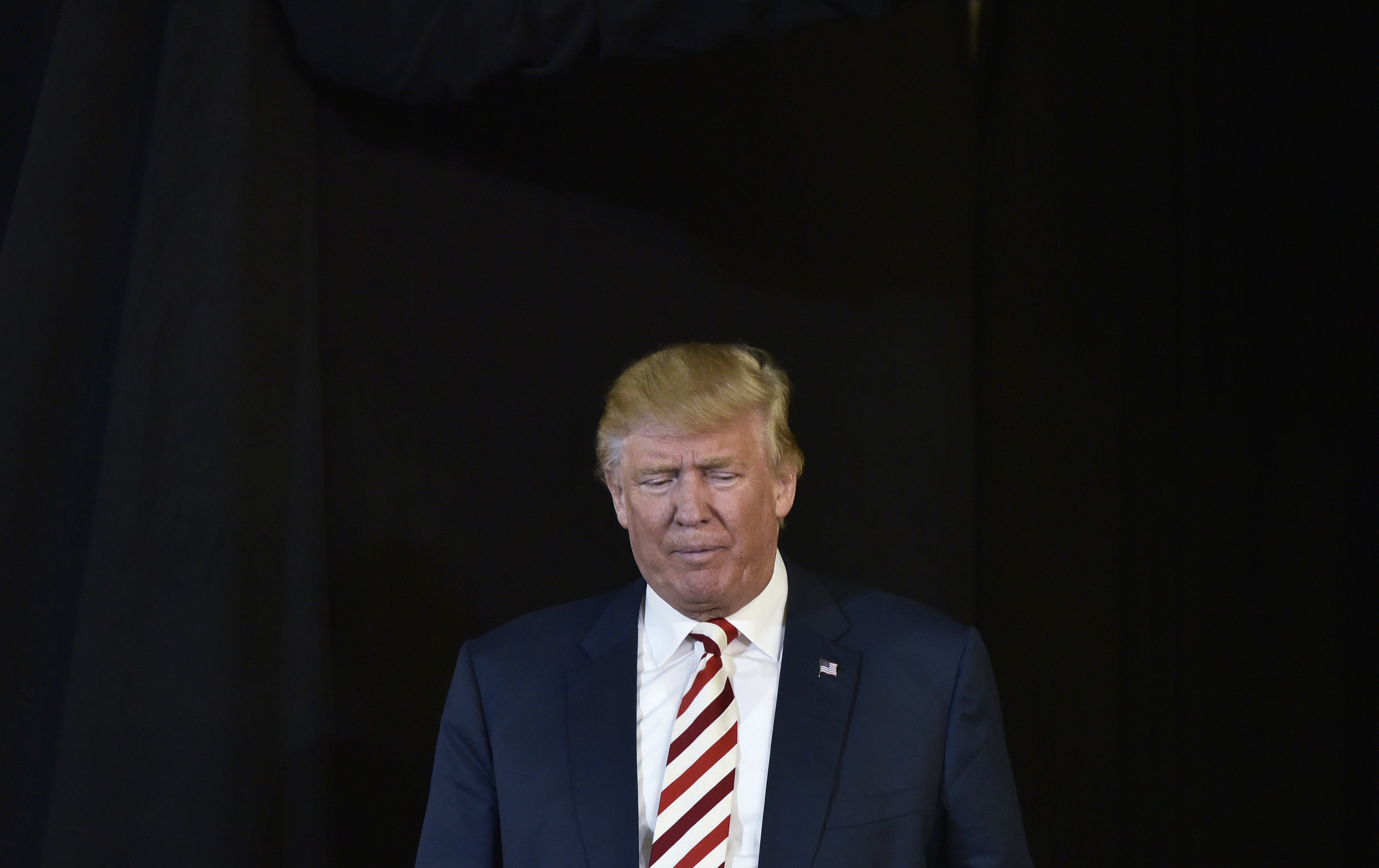 Republican presidential nominee Donald Trump arrives for a rally at the Norris-Penrose Event Center in Colorado Springs, Colorado on October 18, 2016. (Photo: Mandel Ngan/AFP/Getty Images)
Trump has managed to offend women, immigrants and even veterans since launching his campaign in 2015.
Trump Hotels doesn't release booking numbers, but search-and-discovery app Foursquare published research recently showing foot traffic to Trump Hotels fell 19 per cent this summer from two summers earlier, before Trump had announced his presidential bid.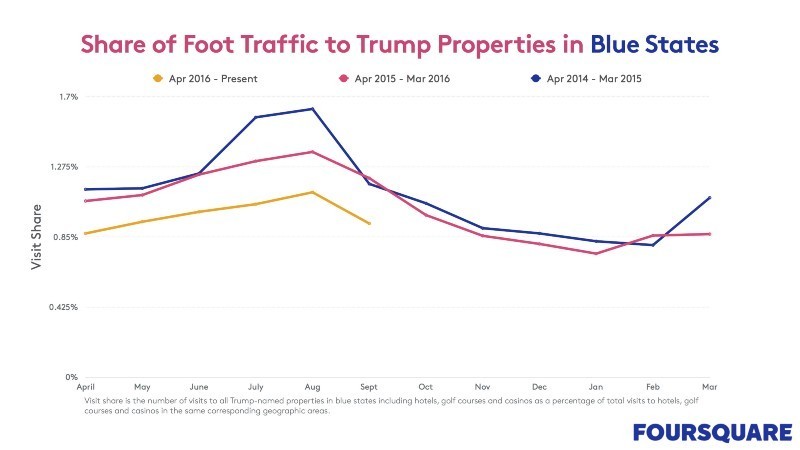 Research from Foursquare suggests traffic to Trump-branded properties is down 19 per cent compared to two summers ago. Traffic in Democratic-leaning blue states (chart above) fell an even steeper 21 per cent. (Chart: Foursquare)
Other measures suggest things could be even worse than that at Trump Hotels. Travel company Ovation Vacations says bookings to Trump hotels have fallen 29 per cent in the past six months, according to Bloomberg.
And New York Magazine reports that the Trump Hotel in Washington, D.C., has seen nightly room rates drop to below $500 per night. The hotel would have to charge $750 to break even.
But executives at the company say everything is fine with the Trump brand.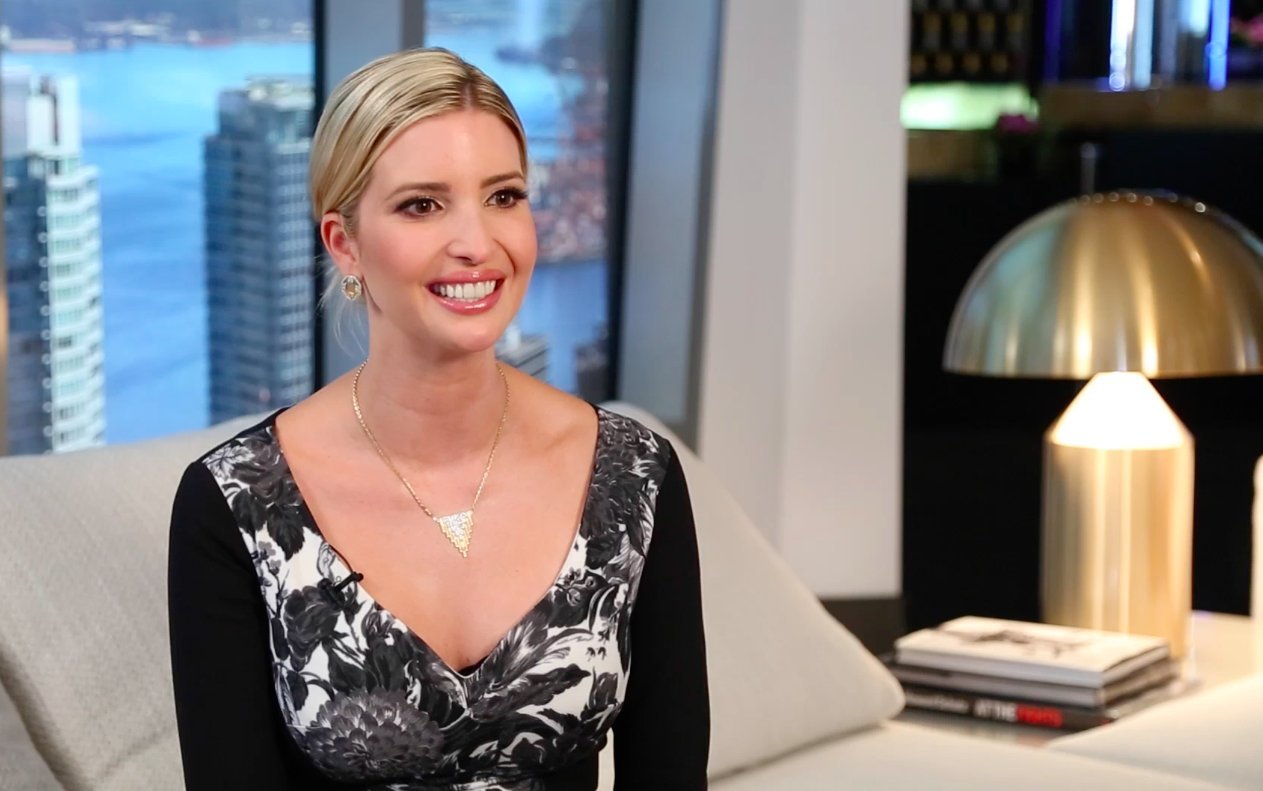 Ivanka Trump says business at the chain is "stronger than ever," despite research suggesting a decline in customers. (Photo: Amanda Palmer/Huffington Post Canada)
"Our business at Trump Hotels is stronger than ever and we are incredibly excited about the future of Scion, the newest brand in our hotel portfolio," said Ivanka Trump, Donald's daughter and vice-president of acquisitions at Trump Hotels, in a statement.
A Trump Hotels spokesperson told Travel + Leisure magazine that the data from Foursquare and other sources "is manipulated to appear meaningful, when, in reality, the information is inconsequential and does not provide an accurate representation of our performance."
'Trump TV' in the works
A hotel rebrand isn't the only business venture in the offing for Donald Trump. According to multiple news reports in recent months, Trump's son-in-law Jared Kushner approached one of the media industry's top dealmakers about launching a Trump-branded news network.
During last week's debate, Trump posted a link to a Facebook Live session that many believed was a test-run for a Trump news channel, designed to capitalize on the conservative populist movement that has coalesced around the candidate.
Like HuffPost Canada Business On Facebook
Also on HuffPost
Republicans Who Have Withdrawn Their Support For Donald Trump