Imagine that you're eight years old. You're at a Toys "R" Us and someone says you have three minutes to grab as many toys as you can. This is the the best day of your life.
Victor Uluadluak was able to do that very thing on Thursday as part of a contest organized by Starlight Children's Foundation Canada, according to CBC News.
Uluadluak, who has a life-threatening condition called severe aplastic anemia, won the chance to take part in the toy spree along with six other kids across Canada with serious illnesses.
"He is so happy. He was counting down the sleeps to come and, I mean, I can't believe all the things that he grabbed," foster mom Jackie Massey told CBC News.
Christmas comes early for 8-yr old Inuit boy with severe Aplastic Anemia on a 3-minute toy store shopping spree in Wpg. @StarlightCanada pic.twitter.com/mWiV7dKiDu

— Heather Wells (@HeatherWellsCBC) October 20, 2016
The eight-year-old is from the remote community of Whale Cove, Nunavut, but is living in Winnipeg with a foster family while he undergoes treatment, according to Inside Edition.
After complications from a bone marrow transplant, Uluadluak's kidneys failed. He receives dialysis six days a week and has to wait until he's healthy enough to get a kidney transplant.
He's at Winnipeg Children's Hospital every day, Trevor Dicaire, vice-president of development at Starlight, told CTV Winnipeg before the toy spree.
"He goes through a lot in his life, a lot of challenges, every day is a hardship for him," he said.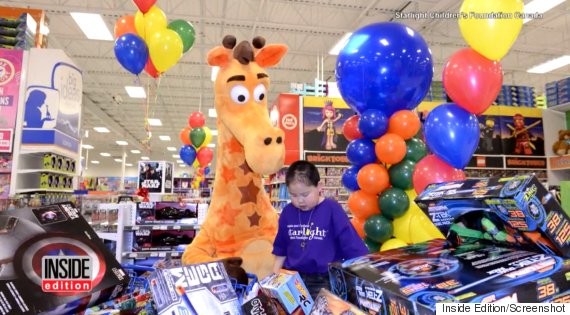 Victor Uluadluak seemingly can't believe his luck as he stands in a pile of toys he nabbed from Toys "R" Us on Thursday. (Photo: Inside Edition/Screenshot)
"But luckily today, the only hardship he's going to have is how to figure out which toys to put in that cart today."
The day of the spree, a whistle was blown and a Starlight mascot pushed Uluadluak around in a shopping cart while he grabbed all of his favourites, according to Inside Edition.
In the end, the boy nabbed $2,300 worth of loot. And he was pretty pleased, telling CBC News he was "more than the happiest kid in the world."
You can see more on the story in the video above.
Also on HuffPost
17 Aboriginal Books For Children