A Conservative MP who led the charge to bring Yazidi victims of genocide and sex slavery to Canada delivered an emotional tribute Tuesday to a woman whose remarkable courage continues to spur action.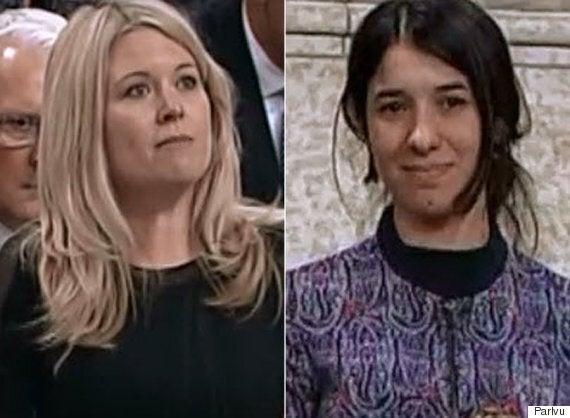 MP Michelle Rempel and ISIL survivor Nadia Murad are shown in the House of Commons on Oct. 25, 2016. (Photo: Parlvu screengrab)
Murad, a United Nations Goodwill ambassador and Nobel Peace Prize nominee, now advocates on behalf of members of the Kurdish-speaking religious minority facing death, rape, and torture in Iraq and Syria.
Murad was watching from the gallery.
Rempel began by referencing a Yazidi prayer about being led out of darkness, something of which Murad and her people have seen too much.
"But she has not been consumed by it," Rempel said. "She's instead been the spark of light that has born the hope of her people, awakening the world to our moral obligation to protect, preserve, and bring justice to victims of genocide."
"Nadia, we honour you and we heed your call not only because we must but because it is you that brought light to darkness."
Murad's oppressors couldn't break her and that strength will be their undoing, Rempel said.
Canada will answer her call to provide refuge for victims and push other nations to stand for what is "good, just, and beautiful," Rempel said.
"Nadia, we honour you and we heed your call not only because we must but because it is you that brought light to darkness," the Calgary Nose Hill MP said before choking up.
After question period, House Speaker Geoff Regan invited members of Parliament to applaud Murad, who rose from her seat with quiet grace and mouthed "thank you."
MPs unanimously vote to provide Yazidis refuge
Immigration Minister John McCallum announced Monday that Liberals would support the motion. However, he also conceded that it will not be easy to bring Yazidis to Canada because many are currently in combat zones that are far from refugee camps in Syria and Turkey.
"My department has sent an expedition out to the terrain and we are committed to bring them in within, as the motion says, 120 days or less,'' McCallum said in the House.
Trudeau: 'I'm pleased to see Nadia again today'
Earlier in question period, Prime Minister Justin Trudeau thanked interim Tory Leader Rona Ambrose for her leadership on the file, but offered no specifics on how many Yazidi women and girls will come to Canada in the next four months.
"Canada will always be an open country willing to step up and support people in need from all around the world," Trudeau said.
"I'm pleased to see Nadia again today and reassure her that in the coming months we are committed to bringing in vulnerable Yazidi refugees."
Ambrose said she appreciated the prime minister's verbal commitment, but added: "we won't rest until we see action."
With a file from The Canadian Press