A Newfoundland MP who made light of concerns over methylmercury poisoning with a flippant "eat less fish" remark has apologized for his "insensitive" quip.
St. John's East MP Nick Whalen released a statement on Monday, expressing regret for online comments addressing concerns over the contentious Muskrat Falls hydroelectric project in Labrador.
Whalen apologized for "any offense" for suggesting concerned people alter their diets to lower their risk of methylmercury poisoning.
Backlash began Sunday after Whalen responded to comments made by the provincial NDP leader Earle McCurdy to mitigate methylmercury risk.
According to CBC News, McCurdy said the soil and vegetation around the Muskrat Falls reservoir would have to be cleared due to the expectation that methylmercury levels will rise in the area.
"That is ridiculous. Just measure MeHg level, eat less fish while MeHg levels are too high and compensate," Whalen said on Sunday in a tweet that has since been deleted.
Saganash: Remark 'goes against' PM promise
Prior to his apology, Whalen's remark came up in question period on Monday. NDP MP Romeo Saganash asked if the government intends to uphold its constitutional duty to Labrador Inuit in regards to concerns over the hydro project.
Saganash said the Liberal MP's remarks were "shameful and goes against the Prime Minister's own commitment to indigenous peoples."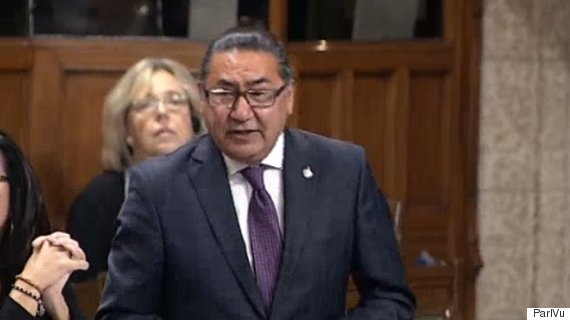 NDP MP Romeo Saganash stands during question period on Oct. 24 in Ottawa. (Photo: ParlVu screengrab)
Jonathan Wilkinson, parliamentary secretary to the minister of environment, ducked a direct answer the question, saying the province is listening to indigenous peoples and stakeholders about the project.
"We expect the province will meet its responsibilities to ensure the health and safety of Canadians," he said.
Protesters halt construction
Nalcor Energy, the company behind the estimated $11.4-billion project, says approximately 50 protesters broke into the site of the hydroelectric project over the weekend.
Tensions have been rising since the company admitted last week that methylmercury levels — a highly toxic form of mercury — will increase in the reservoir that will be created because of project-related flooding.
Great turnout at #MakeMuskratRight rally in St. John's. #nlndp #nlpoli pic.twitter.com/kU9drbGkWk

— Earle McCurdy (@EarleMcCurdy) October 23, 2016
Protesters, including three indigenous youths, are also on a hunger strike to contest Nalcor Energy's refusal to clear soil and vegetation from the project area.
Newfoundland and Labrador Premier Dwight Ball told The Telegraph on Sunday, acknowledging the protesters do what they "have to do."
"It's a very difficult situation right now," he said.
Construction workers have been blocked from the project site. APTN News reports RCMP have temporarily closed a portion of the highway leading up to Muskrat Falls project site in Happy Valley-Goose Bay over concerns of public safety.
Ball is scheduled to meet with regional indigenous leaders on Tuesday to go over upcoming plans to continue construction and flood the reservoir.
With files from The Canadian Press
Also on HuffPost