One million people have signed petitions to close an aquarium at a shopping mall in Guangzhou, China, after footage emerged of what activists are calling the "world's saddest polar bear."
The bear, named Pizza, lives in a tiny glass habitat just a few paces across without any natural light or air.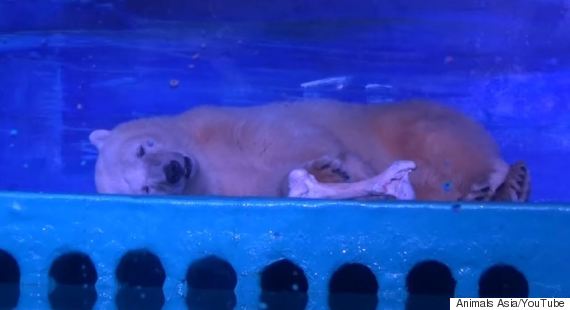 Pizza has been dubbed the "world's saddest polar bear." (Photo: Animals Asia/YouTube)
Experts say the mammal, who has been seen pacing and shaking his head from side to side, is showing signs of mental decline.
"The conditions in which he is being kept are completely unsuitable, vastly removed from anything approaching his natural habitat, and if something is not done then he will likely slip further and further into mental decline," said Alastair Macmillan, advisor to Humane Society International, in a statement.
Last month, Yorkshire Wildlife Park in the U.K. offered to give Pizza a new home.
However, Chinese authorities refused, saying there was "no need for foreign organisations to get involved," according to the Telegraph.
Polar bears are classed as a vulnerable species by the World Wildlife Federation. There are fewer than 30,000 left in the wild.
Two separate petitions from Animal Asia and Humane Society International have collected a combined one million signatures calling for the mall's animal exhibits to be shut down.
Also on HuffPost
Polar Bears In Churchilll, Man.