You probably have your Halloween costume in the works by now, but you may need an idea for your Halloween nail art. For a theme that differs from the regular goblins and ghouls, this creative and creepy crime scene design is perfect for the holiday.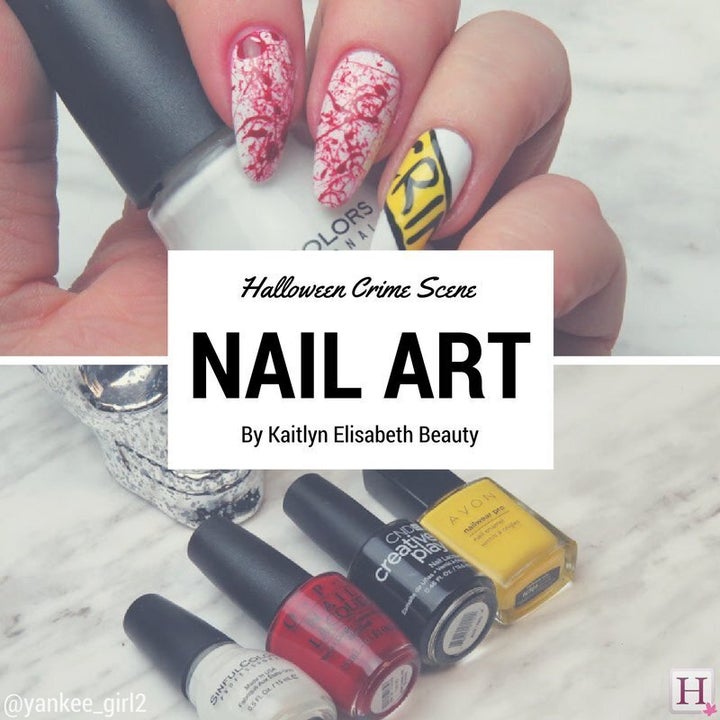 This crime scene nail art design is very easy to do — especially the blood splatter nails. All you need are a few nail polishes and a bobby pin.
To start off, paint all of your nails with a white polish. You can also apply a liquid latex/glue around your cuticles to minimize the clean up later on when you create the blood splatter. Allow the white polish to dry completely before moving onto the blood splatter.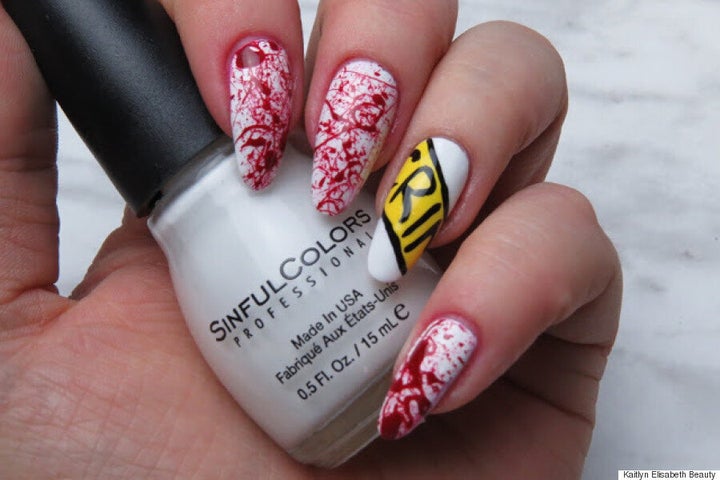 For the blood splatter, you need a red nail polish and a bobby pin. Take the bobby pin and dab the curvy end with the polish. It should stay in the bobby pin and not drip out (unless you have too much polish). Quickly move the bobby pin over to your nails and blow into the bobby pin (have paper towel underneath your nails, so you don't get polish everywhere). The closer the bobby pin is to your nail, the larger the splatter will be. The further away, the finer the splatter. Clean up around your nail after you finish splattering all four nails.
For the crime scene tape, take a yellow polish and create a wide diagonal line across the nail without the blood splatter. Next, taking a small nail art brush and some black polish, write the word "CRIME" inside the yellow line. Create a black boarder around the yellow crime scene tape using the brush and polish.
Allow your design to dry for five to 10 minutes, and then apply a top coat. Happy Halloween!
Polishes used: Sinful Colors Snow Me White, OPI Amore at the Grand Canal, CND Creative Play Black & Forth, and Avon Sunshine