Hillary Clinton is a formidable politician, diplomat and is the likely next president of the United States.
And she's also a fashion icon at these family-run stores in Pristina, Kosovo.
The Hillary and Hillary 2 boutiques have been selling clothes inspired by the politician since the early 2000s.
"She is not only a person who, with her family, has helped Kosovo enormously, but she also has unique taste in clothing," store owner Elda Morina-Ymeraga told AFP earlier this year.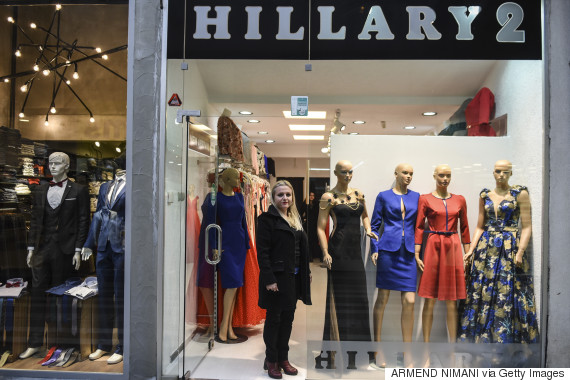 Elda Morina-Ymeraga poses in front of her clothing store 'Hillary 2' in Pristina on March 29, 2016. (Armend Nimani/AFP/Getty Images)
The Clintons are beloved figures in Kosovo, mainly because Bill Clinton was instrumental in the 1999 NATO-led bombing campaign that forced Serbian troops out of the region. The store is even located on Bill Clinton Blvd., and is not far from a statue of the former U.S. president.
The store is particularly popular among professional women.
"We have customers who come from all over Kosovo; they like the name and the styles," store manager Besian Morina told Al Jazeera.
The top sellers at 'Hillary'? A beige pantsuit, according to Vice News.
Also on HuffPost
Hillary Clinton's Style Evolution