Canada lost a sizable 50,400 payroll jobs in August, according to Statistics Canada data released Thursday. That's 0.3 per cent of all jobs gone in one month.
Thursday's payroll survey stands in stark contrast to StatsCan's earlier and therefore more closely watched labour force survey, which reported a net gain of 26,000 jobs that month.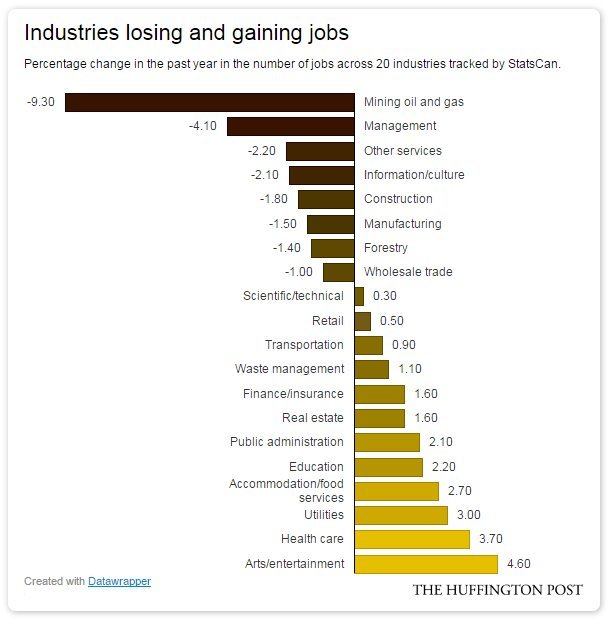 Eight out of 20 industries tracked by StatsCan have lost jobs over the past year.
It puts a question mark over the third-quarter economic rebound that economists had been forecasting for Canada.
While the two surveys can often disagree on what's going on month to month, they tend to agree in the long run, and they do: Canada's job growth over the past year was 0.8 per cent according to the new survey, and one per cent according to the earlier one.
Both numbers suggest a sluggish job market that is almost but not quite keeping up with population growth.
What's worse, there has been nearly no growth for people in the prime working age group, ages 25 to 54.
According to the September labour force survey, only 2,400 jobs have been added among that age group in the past year. That group's population grew by 48,000 in that time.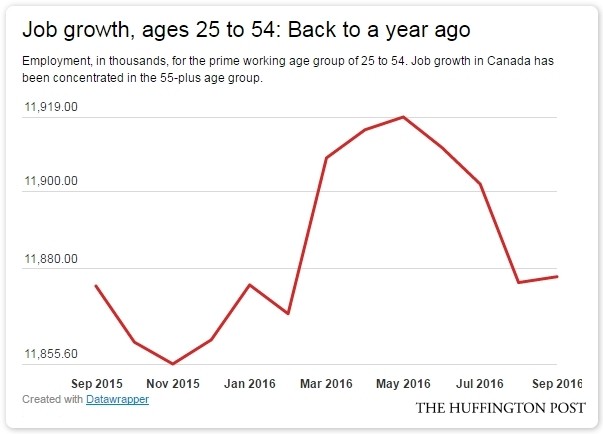 That's despite StatsCan's September report showing a gain of 67,000 jobs that month.
"Not only has the majority of new jobs created this year been part-time positions, but most of those jobs are going to older workers," economists Paul Ashworth and David Madani wrote in a research note from Capital Economics.
"The latest Business Outlook survey points to only a modest pick-up in employment growth. That might not be enough to halt the now marked downturn in average earnings growth."
The payroll survey showed average weekly earnings were up 1.6 per cent over the past year, to $960 a week. That's down from growth rates of 2 per cent to 3 per cent in the years before the oil price collapse.
Also on HuffPost