New Democrats say an immediate $155-million investment for First Nations children is a matter of life and death, not "confetti."
NDP MPs pounced Friday on comments made by Cynthia Wesley-Esquimaux, the academic tapped by the Liberal government to lead national consultations to overhaul First Nations child welfare services.
Wesley-Esquimaux told CBC News that Liberals are prepared to spend more but won't "take money and throw it up in the air like confetti and hope it lands where it needs."
"It might be confetti to them but it is life and death to too many children," NDP indigenous affairs critic Charlie Angus said during question period.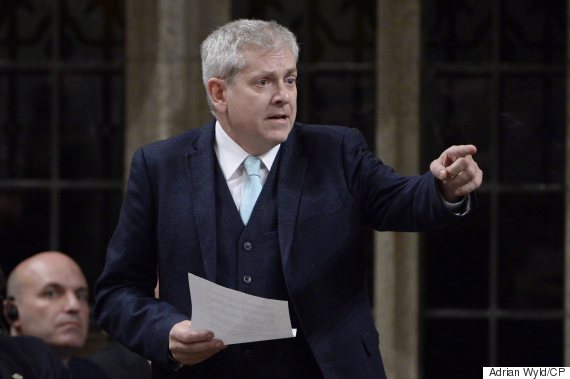 NDP MP Charlie Angus speaks in the House of Commons on Thursday. (Photo: Adrian Wyld/CP)
New Democrats tabled a motion this week demanding the investment in order to comply with a ruling from the Canadian Human Rights Tribunal that the government stop discriminating against First Nations kids in its delivery of welfare services on reserves. The tribunal has issued two compliance orders urging the Liberal government to act.
Though Liberals earmarked $71 million for First Nations child welfare in their first budget last March, advocate Cindy Blackstock has pegged the need at more than $200 million this year.
The NDP motion directly addresses the shortfall identified by Blackstock, the executive director of the First Nations Child and Family Caring Society of Canada, who took her complaint to the tribunal in 2007 along with the Assembly of First Nations.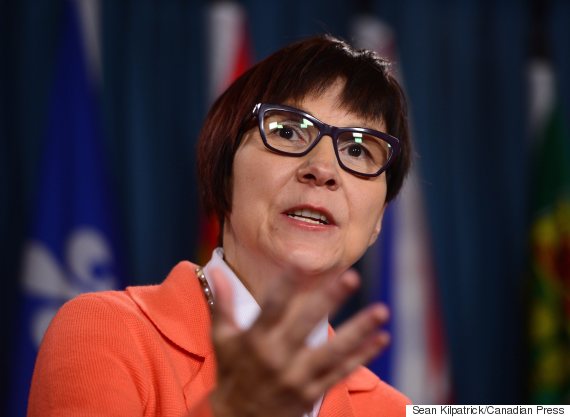 Cindy Blackstock is seen at a press conference on Parliament Hill. (Photo: Sean Kilpatrick/CP)
In the House of Commons Friday, Angus also said new figures from public accounts show the department of Indigenous Affairs and Northern Development "did not bother to spend $900 million" over the last year.
"That is money that could have gone to children, to houses and to education," he said. "With all that money unspent, how come the Liberals cannot find the money to be in compliance with the ruling and stop fighting Cindy Blackstock and the children?
"Why can they not put that money where it is needed?"
'It has to be based on what children need'
Yvonne Jones, parliamentary secretary to the indigenous affairs minister, responded that the government accepts the ruling and is taking action by setting out to truly reform the system.
"The tribunal ruling said that the Government of Canada should invest in the child welfare of indigenous children based on the need in the country, not based on a number that the New Democratic Party or some individual wants to put forward," Jones said.
"It has to be based on what children need in the country. That is what we intend to do."
Saskatchewan MP Georgina Jolibois also demanded to know if Indigenous Affairs Minister Carolyn Bennett believes Blackstock "wants to throw money up in the air like confetti for these kids?"
MP calls out Trudeau
Jones said that ending discrimination can only be achieved through a full reform of "the current broken system."
Quebec MP Romeo Saganash charged that Prime Minister Justin Trudeau was not living up to his promise to establish a true nation-to-nation relationship with First Nations — something Saganash said requires action as well as respect.
Instead of ending discrimination, Saganash said, Trudeau is questioning Blackstock's figures.
"Is this really what we should expect from what the prime minister calls his most important relationship?" he asked.
Again, Jones said Liberals are working hard to reform the system and lift indigenous children out of poverty.
"We are the first government to really tackle this problem, and we will make sure it happens," she said.
"Either this government believes that they comply with the laws of the land or they think they're above it."
Angus told The Huffington Post Canada that he has been surprised by the government's response, accusing them of acting like Blackstock's numbers have come out of thin air.
"They're starting to fight this strange proxy war with the credibility of Cindy Blackstock, which I find really shocking," he said.
Angus said that while he has great respect for Bennett, First Nations kids on reserve are "dying all the time" because they can't get access to services others take for granted, including mental health resources.
While an overhaul of the system is a worthy goal, the first step is meeting the compliance order and getting money in the field right away, he said.
"Either this government believes that they comply with the laws of the land or they think they're above it," Angus said.
'The ball is in your court, Justin Trudeau'
On Wednesday, the Manitoba legislature passed a motion condemning the federal government for its response to the tribunal ruling.
MLA Wab Kinew released a video on Twitter calling on federal Liberals to "end the gap" when it comes to First Nations kids on reserve.
"The ball is in your court, Justin Trudeau," Kinew said in the clip.
Manitoba legislature condemns the lack of action. It's time the Feds do the right thing and equally fund social services for First Nations pic.twitter.com/pBTvgzbZto

— Wab Kinew (@WabKinew) October 26, 2016
The NDP motion also demands the government adopt Jordan's Principle, a policy stating that no First Nations child should be denied health services because of bureaucratic squabbling over money and jurisdictional feuds.
MPs will vote on the motion Tuesday.
With files from The Canadian Press
Also on HuffPost
Meet Canada's Indigenous MPs