It's often reported that most American millennials don't bother with credit cards.
That sure looks fiscally responsible compared to Canadian youngin's — 95 per cent of whom have plastic in their wallets.
But, as it turns out, millennials in the U.S. don't have credit cards because they simply can't qualify for them, new research shows.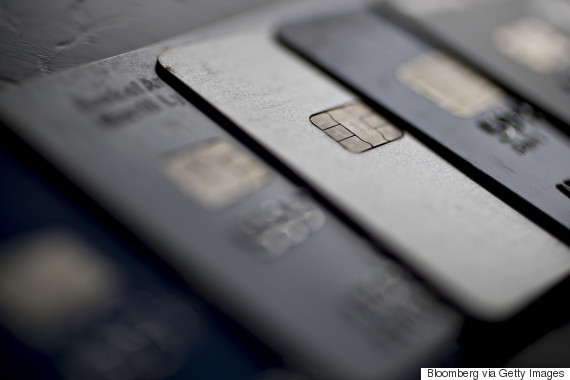 Mastercard Inc. chip credit cards are arranged for a photograph in Washington, D.C. on Oct. 24, 2016. (Photo: Bloomberg via Getty Images)
Over 30 per cent of millennials have applied for credit cards, outranking Gen X'ers and baby boomers.
However, consumer data firm ID Analytics found that many of those under 30 don't have strong enough credit to get approved.
That's partly because they can't build up their credit through modern expenses like cell phone bills. And, of course, they can't get credit cards without a strong score.
"Without a complete picture of millennials' credit, many financial services companies are turning away good consumers," Patrick Reemts, ID Analytics vice-president of credit risk solutions, said in a news release.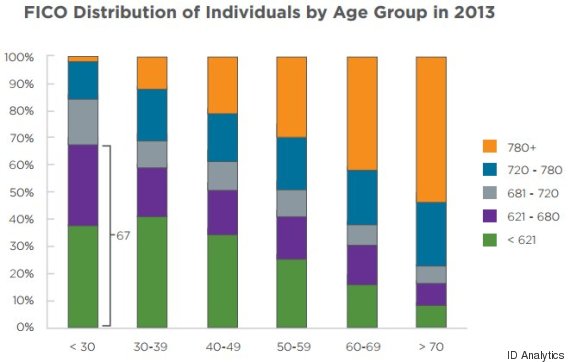 A separate report from the same firm found that 67 per cent of people under 30 had credit scores of less than 681.
Scores below that are not considered good credit, according to Nerdwallet.
Meanwhile in Canada
Canadians appear to be doing better when it comes to borrowing money.
Data released by Ratehub shows that — out of the 95 per cent of Canadians who have a credit card in the 18 to 29 age group — 92 per cent say they have good credit. Ten per cent of those who applied for a Visa or Mastercard said that they had a "poor" credit score of 560 or lower.
However, 44 per cent didn't know their credit score at all.
Also on HuffPost
The Best Credit Cards In Canada 2015