Canadians know when it comes to haunted houses, Nightmares Fear Factory's photo collection of scared souls is probably the funniest part of Halloween.
The Niagara Falls haunted house has been scaring the pants off people for years now.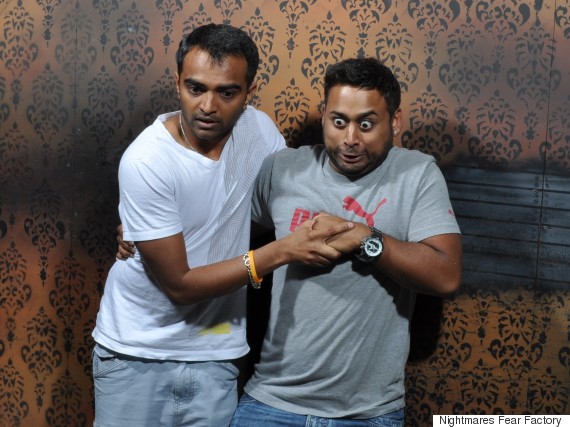 So far more than 140,000 people haven't made it through the full experience, according to Fear Factory's website.
General manager Mark Ritchie says even if you've visited the house in the past, there are always new changes happening to make it even scarier.
"We're constantly changing things in the haunted house. The owner is extremely creative," he says.
Tickets for the 10- to 15-minute tour (because let's be real, you can run right through it if you're that scared) are $13.95 for adults and $10.25 for children — and even cheaper if you buy them online.
And no, we don't know what the people in this picture are actually looking at either — it's a secret the haunted house likes to keep to themselves, unless of course you go there yourself.
Check out 45 of our favourite photos below!
Nightmares Fear Factory

Nightmares Fear Factory

Nightmares Fear Factory

Nightmares Fear Factory

Nightmares Fear Factory

Nightmares Fear Factory

Nightmares Fear Factory

Nightmares Fear Factory

Nightmares Fear Factory

Nightmares Fear Factory

Nightmares Fear Factory

Nightmares Fear Factory

Nightmares Fear Factory

Nightmares Fear Factory

Nightmares Fear Factory

Nightmares Fear Factory

Nightmares Fear Factory

Nightmares Fear Factory

Nightmares Fear Factory

Nightmares Fear Factory

Nightmares Fear Factory

Nightmares Fear Factory

Nightmares Fear Factory

Nightmares Fear Factory

Nightmares Fear Factory

Nightmares Fear Factory

Nightmares Fear Factory

Nightmares Fear Factory

Nightmares Fear Factory

Nightmares Fear Factory

Nightmares Fear Factory

Nightmares Fear Factory

Nightmares Fear Factory

Nightmares Fear Factory

Nightmares Fear Factory

Nightmares Fear Factory

Nightmares Fear Factory

Nightmares Fear Factory

Nightmares Fear Factory

Nightmares Fear Factory

Nightmares Fear Factory

Nightmares Fear Factory

Nightmares Fear Factory

Nightmares Fear Factory

Nightmares Fear Factory