Adam Capay marked the end of his teen years in solitary confinement at a Thunder Bay, Ont. prison.
And spent several more birthdays after that behind bars.
Yet, he hasn't seen a trial.
Capay has been in segregation for four years — 1,500 days — after being charged in the death of another inmate.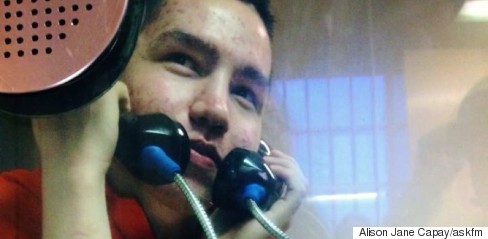 Adam Capay, 23, is pictured in 2015. (Photo: Alison Jane Capay/ask.fm)
The United Nations has stated that any length of solitary confinement longer than 15 days amounts to "torture" because of the lasting mental damage from social isolation.
In addition, the Supreme Court of Canada has previously ruled that a "reasonable delay" in reaching trial shouldn't be any longer than two and a half years.
There's no telling how long Capay's case would have dragged on, if not for Renu Mandhane, Ontario's chief human rights commissioner.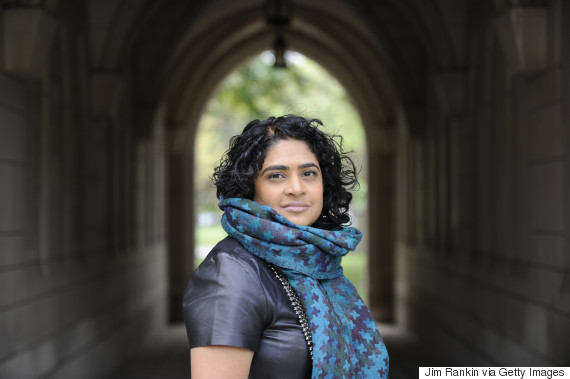 Renu Mandhane, Ontario's chief human rights commissioner. (Photo: Jim Rankin/Toronto Star via Getty)
Mandhane visited the jail where Capay was being held earlier this month. A guard tipped her off about the inmate's situation, and the commissioner found him in a windowless room, under the glare of 24-hour artificial light.
"He just seemed like a broken individual, somebody who had suffered a lot," she told The Huffington Post Canada in an interview. (Watch video here.)
"Those kinds of things — sensory deprivation is what it's called legally — they aren't techniques that you associate with a modern correctional facility in Canada."
Mandhane's revelations have led to a firestorm of criticism.
The government is now reviewing segregation in Ontario's prisons. And on Wednesday, Capay was moved into a different cell. He is still segregated from the general population, but the 23-year-old can now use a day room, television, and phone.
Here are five things to know about the lawyer who brought Capay's case to light.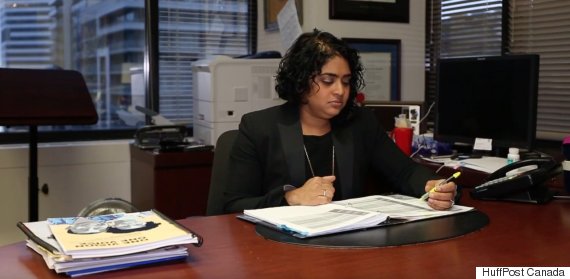 Renu Mandhane works in her office on Wednesday. (Photo: HuffPost Canada)
She's new to the commission
Mandhane was appointed to the Ontario Human Rights Commission (OHRC) last fall.
She told Ultravires she she spent "a long time thinking" before applying for the position in February 2015. She was offered the job six months later.
She studied at three different universities
Mandhane graduated with an arts degree from Queen's University in 1998. She volunteered at the school's Sexual Health Resource Centre while she was an undergrad, which sparked her interest in feminist and human rights.
In a profile for Queen's Alumni Review, she said the centre was where she "could discuss the things that mattered."
Mandhane continued her studies at the University of Toronto, where she earned a law degree.
She went on to study international human rights at New York University, graduating with a master's degree in law in 2003.
She used to be a faculty member at U of T
Mandhane worked as a criminal lawyer for four years, then returned to the academic world. She was the director of the International Human Rights Program at the University of Toronto — which she called her "baby" — before moving to the OHRC.
She was born in Alberta
Mandhane was born in Calgary. Her parents, Jaman and Nilima Mandhane, immigrated to Canada from India. During Madhane's childhood, South Asians were rare in the city — so much so that people would ask her dad to take a picture, according to the Toronto Star.
Mandhane told the newspaper that she travelled to India and other countries during her childhood, exposing her to injustices early on.
She's an advocate for prisoners with mental illness
In 2012, Mandhane penned an op-ed for The Toronto Star about how female inmates with mental health issues are treated in Canadian prisons. She wrote about Ashley Smith, a 19-year-old who died by self-inflicted strangulation in 2007. At the time, Smith was on segregated suicide watch at Grand Valley Institution for Women in Kitchener, Ont.
Her death was ruled a homicide in 2013, after an inquest found that corrections staff failed to properly care for her.
Mandhane wrote that cases like Smith's are all too common, and that others share "eerily similar stories."
With files from The Canadian Press
Also on HuffPost