OTTAWA — With the U.S. presidential election looming, Canada's international trade minister says she wants a new trade deal with Europe to showcase how strong trading relationships are better than building walls.
In hailing Sunday's signing of the Comprehensive Economic and Trade Agreement, or CETA, Chrystia Freeland says she believes the agreement could set the tone for any future talks with a new administration in Washington.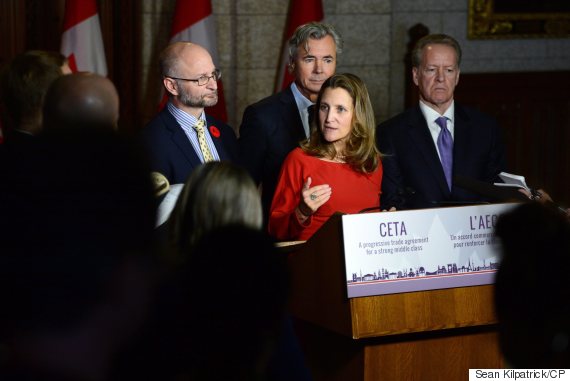 International Trade Minister Chrystia Freeland speaks to media in the foyer of the House of Commons on Oct. 31, 2016. (Photo: Sean Kilpatrick/CP)
Republican presidential nominee Donald Trump has warned that he would renegotiate or even tear up the North American Free Trade Agreement, NAFTA, and impose hefty tariffs on goods imported from outside the United States.
Democratic candidate Hillary Clinton hasn't gone that far, but has also been critical of NAFTA.
Freeland says the protectionist rhetoric coming from south of the border — and indeed an anti-globalization movement worldwide — has her deeply concerned for Canada's exporters.
Prime Minister Justin Trudeau has defended CETA as a deal that will provide immediate benefits to Canadians and Europeans, even though the agreement could be scrapped at any time before final ratification.
Also on HuffPost
Harper's Legacy: Top Achievements, Failures, According To Poll