Conservative leadership candidate Maxime Bernier out-fundraised his rivals over the summer, raking in $371,000 between July and September, more than the rest of the field combined.
The financial reports posted on Elections Canada's website also show the Liberals raised the most money in the last quarter, while the Conservatives and New Democrats had their worst fundraising quarters in five years.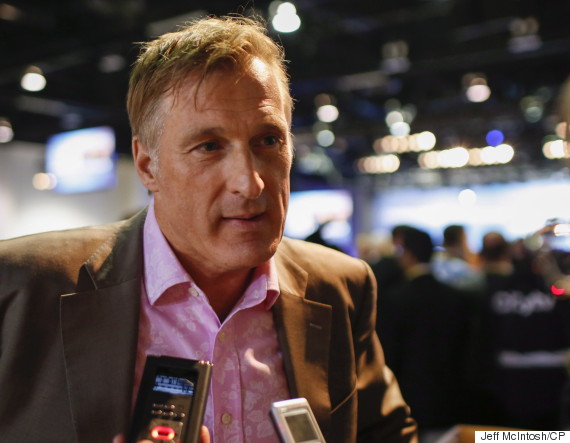 Maxime Bernier speaks to reporters at the Conservative convention in Calgary on Nov. 2, 2013. (Photo: Jeff McIntosh/CP)
Quebec MP Maxime Bernier raised $370,605.89 from 1,838 contributors in the third quarter of 2016, out-pacing the other contestants who were officially in the running for the Conservative leadership at the time.
Kellie Leitch, who had raised the most money in the second quarter of the year, raised $215,635.97 from 811 contributors. Her total of $450,421.56 raised so far in the campaign, still puts the Ontario MP at the top of the list.
But Bernier's successful quarter has him nipping at her heels, with a total of $427,508.72 raised between April and September.
Michael Chong raised $124,224.34 from 243 contributors, bringing his total for the campaign to $208,913.72.
Fellow Ontario MP Tony Clement, who withdrew from the contest earlier this month citing his fundraising difficulties, raised just $20,080.00 from 26 contributors.
Deepak Obhrai, an Alberta MP, raised only $1,100 from two contributors.
No fundraising data was available for official leadership contestants Chris Alexander, Steven Blaney, Erin O'Toole, Andrew Scheer and Brad Trost, who either entered the race after the end of the third quarter reporting period or had no fundraising during the summer to report.
Fundraising down for all parties
The Liberals raised the most money over the summer, taking in $3,223,064.85 from 35,180 contributors. Still, that was down about $1.7 million from the previous quarter and the lowest amount of money raised by the Liberals since the second quarter of 2014.
Fundraising was also down for the two opposition parties.
The Conservative Party raised $3,131,308.24 from 29,073 individual contributors, down about $1.9 million from the second quarter. It was their slightest fundraising haul since the third quarter of 2011, though the leadership contest may have tapped donors who would otherwise have contributed to the party coffers.
Including contributions made to the leadership contestants, the Tories brought in a total of about $3.9 million. The last time the Conservatives raised less than $4 million was in 2013.
The New Democrats saw their fundraising slide for the fourth consecutive quarter, dipping to $972,607.03 raised from 14,553 contributors. That is down just under $111,000 from the second quarter of 2016 and the NDP's worst result since the third quarter of 2011.
The Green Party raised $514,728.20 from 7,008 contributors, while the Bloc Québécois raised $99,732.58 from 874 contributors.