A Conservative leadership candidate has raised eyebrows after pointing to one of his Canadian-born rivals as an example of successful "integration."
Quebec MP Steven Blaney appeared on CTV's "Question Period" Sunday to discuss his bid to replace Stephen Harper as Tory leader. Blaney reignited the divisive debate over the wearing of niqabs last week and pledged to stem what he calls the "slow and steady erosion" of Canadian values.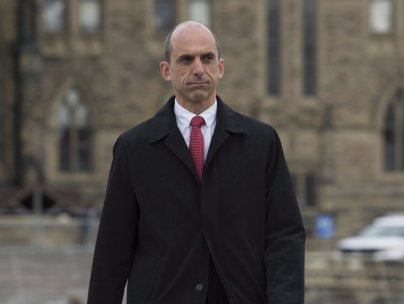 Steven Blaney walks on Parliament Hill on Oct. 24, 2016. (Photo: Adrian Wyld/CP)
Host Evan Solomon pointed out that two other leadership contenders — Ontario's Michael Chong and Alberta's Deepak Obhrai — have publicly stated that Blaney is on "the wrong track."
"To me, you know, Deepak Obhrai and Michael Chong are models of integration," Blaney responded. "And multiculturalism is about welcoming Canadians from all around the world, no matter what is their beliefs or where they come from."
While Obhrai was born in Tanzania, Chong was born in Windsor, Ont. to a mother originally from the Netherlands and a father from China.
"First of all Michael Chong, of course, was born in Canada so I don't know if he integrated," Solomon said. "He's a Canadian by birth."
Says policy isn't anti-immigrant
Blaney, a former public safety minister, seeks to ban face-covering veils being worn during the citizenship oath, as well as when citizens vote and work in the public service. He also wants the citizenship test changed to ensure that would-be immigrants are "sufficiently tested" on their proficiency with one of the two official languages and "Canada's core principles."
And, if elected prime minister, he would give border and security agencies more resources.
But Blaney dodged a request by Solomon to provide a specific example of why such changes are needed, saying instead that his policy is not anti-immigrant.
"I'm an immigrant myself and you probably are if we go back a few generations away," he said. "This country is built on immigration."
But the first line of Blaney's biography on his leadership website notes that he was born in Quebec.
"I was born at Hôtel-Dieu de Sherbrooke; during the Stanley Cup playoffs, where the Montreal Canadians were playing against Toronto's Maple Leafs," it reads.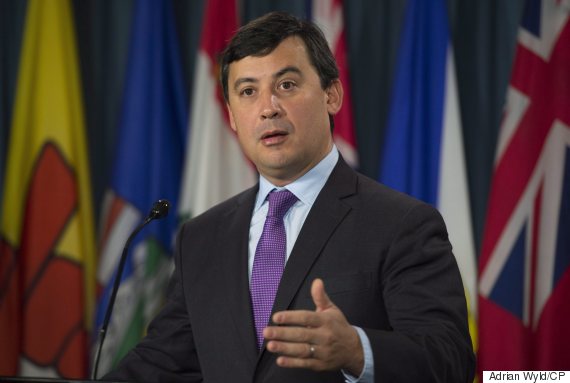 Michael Chong speaks during a news conference on Parliament Hill on Oct. 24, 2016. (Photo: Adrian Wyld/CP)
Blaney's comments about Chong sparked criticism and mockery online Sunday. The Huffington Post Canada has reached out to Blaney for his response.
Chong, however, took to Twitter Monday afternoon to suggest he wasn't bothered by what his "friend" had to say.
Not an immigrant, but parents were. I'm proud of their story of integration. I think my friend @stevenblaneypcc was making that point - MC

— Michael Chong (@MichaelChongMP) October 31, 2016
Chong has made his family's story central to his campaign, pointing out in his own biography how his parents worked hard and sacrificed to build a new life in Canada.
"His experience as the child of immigrant parents in rural Canada helped shape his perspective on a pan-Canadian identity," it reads. "He was brought up to understand and appreciate that diversity is what unites and enriches Canada as a country."
Last week, Chong told reporters that Tories should be focusing on the economic concerns Canadians care about, rather than identify issues.
Chong also forcefully called out rival Kellie Leitch's proposal to screen immigrants for "anti-Canadian values," calling it "dog-whistle politics."
Watch Blaney's interview with Solomon below:
With files from The Canadian Press
Also on HuffPost
Conservative Leadership Candidates