This is next-level fatherhood.
A dad who was flying with his daughter on Halloween planned a little surprise for her so she wouldn't miss out on trick-or-treating.
Three-year-old Molly and her father were flying from Boston to San Francisco on Monday, according to InsideEdition.
On the flight, the man passed around candy and a note to passengers explaining what he was doing.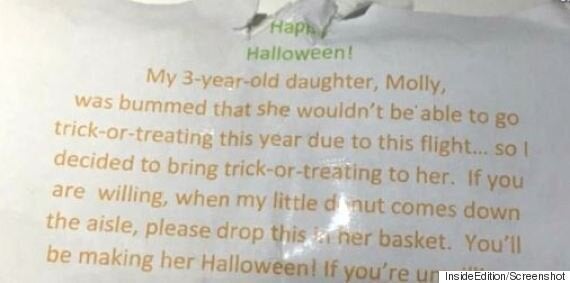 "My three-year-old daughter, Molly, was bummed that she wouldn't be able to go trick-or-treating this year due to this flight," the note said, "so I decided to bring trick-or-treating to her."
"If you are willing, when my little donut comes down the aisle, please drop this in her basket. You'll be making her Halloween! If you're unwilling, no worries, just pass the treat back to me. Thanks so much!"
Stephanie Kahan, who was sitting in front of the dad and daughter on the flight, told InsideEdition she loved the idea.
"As soon as I read the note I started tearing up because I thought it was the cutest thing in the world," Kahan said.
Fellow passengers were totally on board with the idea, too. Kahan told the Boston Globe that everyone was excited to participate.
"It was a real heartwarming moment," she said.
Kahan posted a photo of the note and the little girl on Twitter Monday, accurately describing the father as "dad of the year." It has been retweeted more than 100,000 times since.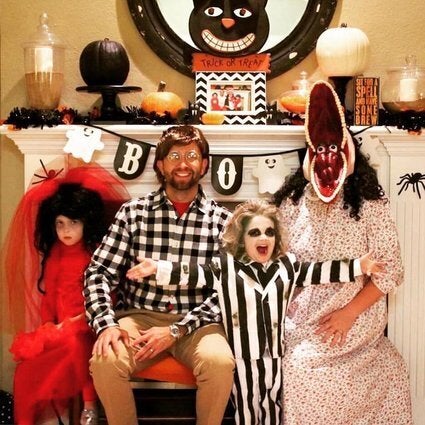 Family Halloween Costumes 2016