Casey Pearlman and Yasmin Idris are best friends from Laguna Niguel, California, who have different faiths. Casey is Jewish, while Yasmin is Muslim.
Casey and Yasmin created their own costumes which comprised of yellow t-shirts, striped leggings and capes. Both their T-shirts and capes were decorated in glitter with the logo "JM," which stands for Jewish-Muslim.
According to Casey, the teens' superhero costume was about more than just integrating their two faiths. "Me and Yasmin both disagree with almost everything that [Trump's] deciding to do," she told BuzzFeed. "That didn't at first influence our costume idea. But when we realized it was standing up to what he believes in, that kind of made me really happy."
As a result, Yasmin explained that their superpower is "to watch each other's back."
"We're a super team, like friends forever," she said.
After Casey's dad, author Jeff Pearlman, posted a photo of the best friends' costume to Twitter on Saturday, it quickly went viral. Many users applauded the costume and agreed that the Juslims are the superheroes we all need.
The teens went to school dressed as the Juslims on Monday and also received a lot of positive feedback.
In response to the kids' inspiring invention, Casey's mom, Catherine, told Upworthy: "The delightful thing about their costume is that it was thoughtless. It was so authentic to the nature of who they are and their friendship."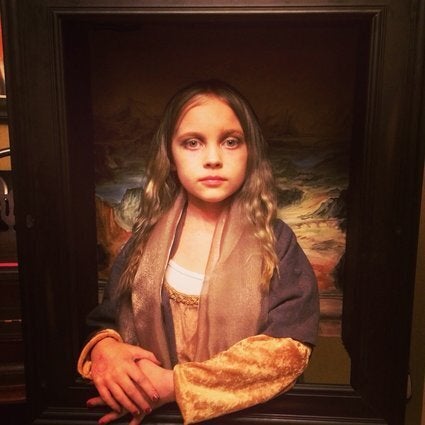 Most Creative Kids' Halloween Costumes