In a hurry for the holidays, Starbucks raised eyebrows earlier this week when they brought back their holiday drink menu just three hours after Halloween ended.
Just a few days before that, an image of the company's hotly-anticipated red holiday cups were leaked on the image sharing site, imgur.
I peeked.
But it's the image they posted on their Facebook page yesterday that has everyone talking.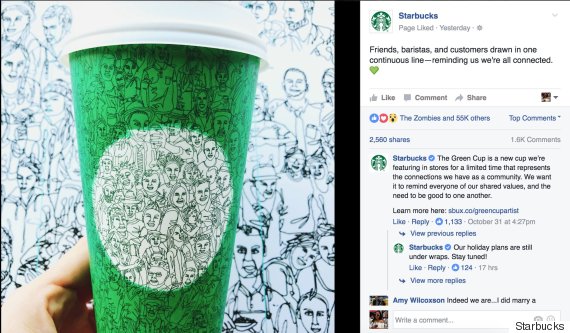 The new green cup confused many into thinking the traditionally red holiday cup had switched colours, but the company insists this cup is different from the holiday cups.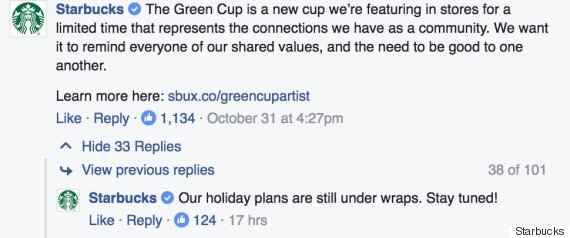 "The green cup and the design represent the connections Starbucks has as a community with its partners (employees) and customers. During a divisive time in our country, Starbucks wanted to create a symbol of unity as a reminder of our shared values, and the need to be good to each other," said Howard Schultz, Starbucks chairman and CEO, in a press release.
The limited edition cup, which was designed by artist Shogo Ota, was launched in stores across the United States on November 1.
This isn't the first time a Starbucks coffee cup has stirred up some controversy. Last year, the chain decided to forgo their patterned red cups in favour of a simple two-tone red cup that "welcome[d] all of our stories." The plan however backfired as some Christians accused the company of insulting Christmas.
Also on HuffPost
Starbucks Holiday Drinks In Order Of Hype