Schmaltz-Fried Kreplach may be a mouthful to say, but boy is it ever a tasty one once you wrap your head around it.
Kreplach are Jewish pierogies traditionally served in broth as an alternative to the world-famous matzo ball soup. But Toronto chef Zane Clapansky leaves the tradition at the door with the addition of cream (Shhh! Don't tell his Rabbi) and plenty of schmaltz, or rendered chicken fat.
The result is a fresh take on classic Jewish comfort food that you can make right at home. Watch the video for a step-by-step on the recipe below: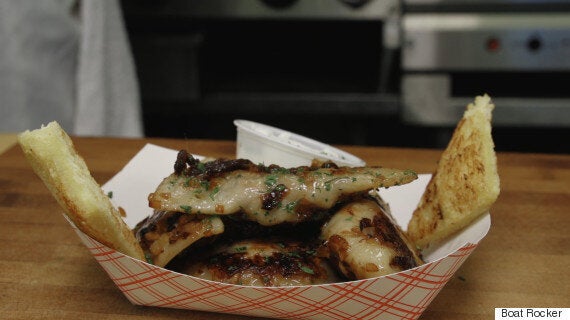 Schmaltz-fried kreplach with challah
2 cups of all-purpose flour
1/4 cup chopped smoked meat
1 onion, diced and sautéed in schmaltz
1 clove of garlic, minced, sautéed in schmaltz
1 tsp each of parsley, rosemary, thyme
1/2 cup challah bread crumbs
2 tsp Worcestershire sauce
1. Make the dumpling dough by mixing the flour, water, olive oil and salt in a large mixing bowl. Cover and let rest overnight.
2. Dust your workstation with flour and roll out a small pinch of dough with a rolling pin.
3. Make the filling by combining ground beef, smoked meat, parsley, rosemary, thyme, breadcrumbs, BBQ sauce, cream and eggs. Mix well.
4. Add a tablespoon of filling to the rolled-out dough. Wet the edge of the dumpling with water. Fold and crimp to seal. Be sure to remove any air pockets.
5. Add dumplings to a pot of salted boiling water. When the dumplings float to the top, they're ready.
6. In a hot pan, add the onion and garlic sautéed in schmaltz. Transfer dumplings to the pan and cook over high heat until perogies are golden brown.
7. Plate and garnish with melted schmaltz, chives and sour cream.
Watch Zane in action the full episode video below:
"Say It. Make It. Eat It." is an AOL Canada Originals series that celebrates the multitude of cuisines from around the world that are loved by Canadians from coast to coast. Renown chefs from the country's top restaurants and online food celebs show you step-by-step how properly say, make and enjoy some of their favourite dishes — and they'll fill you in on why these dishes are close to their hearts. Get ready to cook and dine like a pro, Canada.