One mom in Tasmania, Australia, hasn't been able to use her sewing machine for years.
That's because her 12-year-old son has monopolized it.
"Lots of people like skateboarding and socializing with their friends, I just like coming home and sewing," Campbell Remess told Australian news program The Feed.
The preteen, who goes by the nickname "Bumble," spends a lot of his free time making teddy bears.
Remess was inspired to start making them when he was nine after his parents told him they didn't have enough money to buy Christmas presents for sick children in hospital, he wrote on Facebook.
He's one of nine kids, according to The Feed.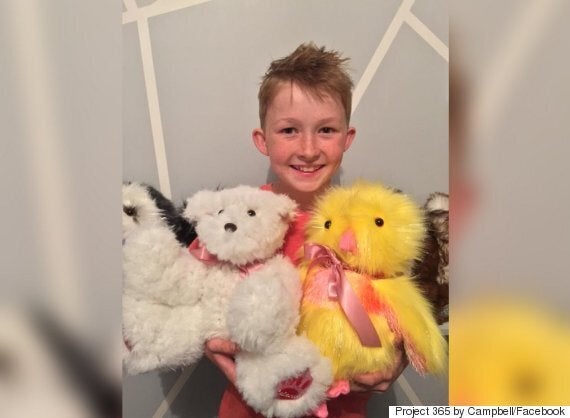 Campbell Remess is one of nine children, so his parents didn't exactly have the funds to send presents to sick kids. (Photo: Project 365 by Campbell/Facebook)
So he decided he would make the gifts himself. He set himself a goal of 365 a year, one every day, he said on Facebook.
He makes them for kids in hospitals, but they've also comforted victims of terror attacks in Brussels and Paris, 9News reports.
"He jumps every hurdle, he puts light in dark situations, he's magic," his mom Sonya Whittaker told the outlet.
He uses his pocket money to buy supplies, but also encourages people to donate through PayPal and GoFundMe.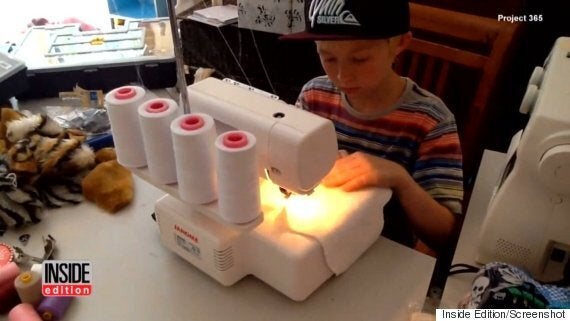 Campbell hard at work. (Photo: Inside Edition/Screenshot)
She was nervous when he first sat down to the sewing machine three years ago. The two looked at patterns together, but he eventually figured out how to make the bears on his own.
While his bears have made a difference in many people's lives, Whittaker told Inside Edition the most special one was for his dad, who developed cancer that kept coming back after going into remission.
One night, Remess came out and showed his dad the bear he'd made for him, saying it would help him beat the illness. His dad's cancer hasn't come back for over a year.
"Bumble changed the entire attitude" in their house, she said, "and I'm sure that same impact is felt on each recipient of each bear he gives," she said.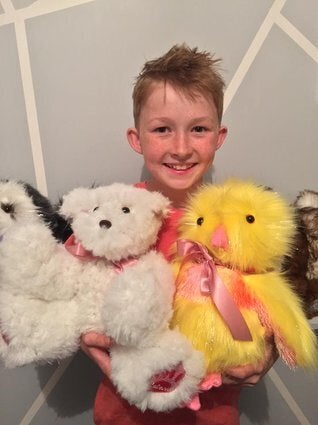 Campbell Remess, His Bears And The People Who Receive Them