OTTAWA — Justin Trudeau says he's open to considering some dramatic reforms to political financing laws to counter the perception that wealthy Canadians are buying privileged access to him and his cabinet ministers.
The prime minister has been under fire for several weeks over so-called "cash-for-access" fundraisers, where donors have paid up to $1,500 to attend exclusive events featuring a minister.
Trudeau has maintained throughout that federal political financing rules are sufficiently strict to prevent any appearance of preferential access. But he did not rule out Thursday reforms aimed at further reducing the influence of money on politics and the need for parties to engage in non-stop fundraising.
At a news conference, the prime minister was asked specifically if he'd consider dramatically reducing the $1,500 limit on individual donations, reinstating the per-vote public subsidy for political parties and severely restricting how much money parties can spend between elections.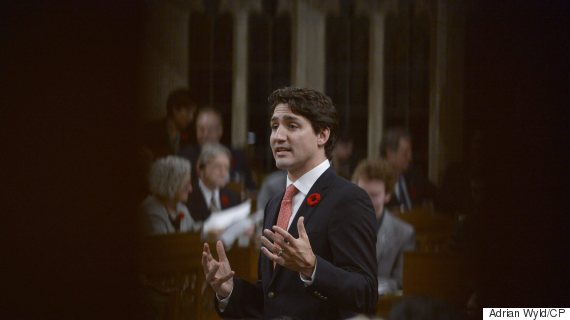 Prime Minister Justin Trudeau speaks in the House of Commons on Nov. 2, 2016. (Photo: Adrian Wyld/CP)
"I'm always open to discussions about how we can improve our democracy, how we can better earn every day the trust of Canadians that is required for government to work well," Trudeau responded.
"So, I'm always open to conversations about how to improve our systems of government and I look forward to continuing these conversations in the years to come."
Trudeau's comments came just as the Conservatives were hoping to hoist the prime minister, who took office one year ago promising more ethical government, on his own ethical petard.
The Conservatives have kept up a steady barrage of flak over the fundraisers, accusing Trudeau of breaking his own directive that cabinet ministers must avoid even the appearance of giving preferential access to individuals who donate to the Liberal cause.
"I'm always open to discussions about how we can improve our democracy, how we can better earn every day the trust of Canadians that is required for government to work well."
They used their opposition day Thursday — a day before the first anniversary of the swearing-in of Trudeau's government — to debate a motion calling on the House of Commons to give the ethics commissioner power to enforce the prime minister's directive.
The motion, which will be put to a vote later this month, is clearly aimed at putting Trudeau on the spot: either vote against his own ethics directive or support the motion and risk having ethics commissioner Mary Dawson rule against the practice of allowing cabinet ministers to be the feature attraction at fundraisers.
Dawson has called these so-called "cash-for-access" fundraisers "not very savoury" but says she has no legal authority to enforce Trudeau's directive on avoiding the perception of preferential access.
Ministers 'fully following' rules: PM
Trudeau insisted that he and his ministers are "fully following and respecting" his directive on fundraising, contained in a publicly available document entitled Open and Accountable Government, in which the prime minister outlined the standard of conduct expected of ministers.
But that argument could make it harder for Liberals to vote against the Conservative motion: If they feel they are following Trudeau's directive, they have no reason to fear letting Dawson enforce it.
Trudeau also reminded Canadians that federal parties are subject to "some of the strictest rules and principles around fundraising of any level of government" — the annual $1,500 cap on individual donations and a total ban on corporate or union donations — and that all contributions are disclosed publicly.
And he pushed back at the Conservatives, accusing them appointing their own party fundraisers — like Mike Duffy and Irving Gerstein — to the Senate, where they could continue raising money.
"We have a very different perspective on the Senate and a very different perspective on fundraising."
Also on HuffPost
PM Trudeau Posing For Selfies