Maryam Monsef says the "drama" surrounding her place of birth and citizenship has had an impact on her family.
"Right now, to be completely fair, because my family drama is out there for all sorts of people to see and comment on... I'm actually more concerned about my mom's well-being," said the democratic institutions minister. "That's my number one priority."
"I don't get to see her a lot these days. I've been on tour [for electoral reform consultations] while this has all happened and we haven't spent much time together. So, I fortunately get to go home and see her very, very soon."
Monsef made the remarks in response to questions from The Huffington Post Canada's Althia Raj during Make It Count, a digital town hall focused on electoral reform, on Thursday.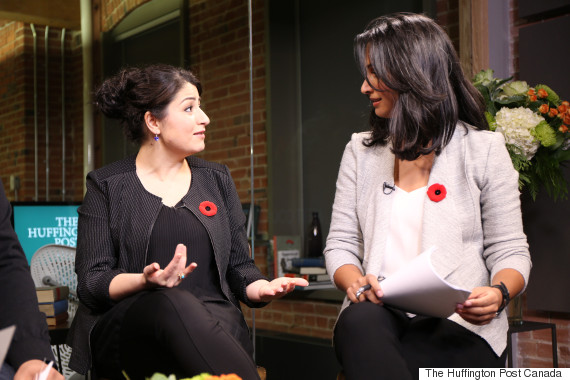 Democratic Institutions Minister Maryam Monsef speaks to HuffPost Canada's Althia Raj during a digital town hall on Thursday. (Photo: Brian Trinh/HuffPost Canada)
The controversy began in September after a Globe and Mail story revealed that Monsef was born in Iran — and not Afghanistan, as she's previously claimed.
Monsef, who came to Peterborough, Ont. in 1996 with her family as a refugee, said her mother had always told her she was born in Afghanistan.
After the Globe story was published, the minister said in a statement that she asked her mother why she never told her children they were born in Iran.
Her mother thought it didn't matter, Monsef said, as the family members were still Afghan citizens, and were never given Iranian citizenship.
"I'm actually more concerned about my mom's well-being."
The revelation eventually led to a backlash that ranged from the Opposition calling for Monsef to step down until an investigation could be conducted, to users on social media demanding she be deported from the country.
When asked if she was worried about Canadians in similar situations to hers but getting treated differently, Monsef answered that her main concern is her mother's well-being.
"I know that I have a responsibility as a legislator when it comes to this, and I'm confident that I've chosen a party that's welcoming to new Canadians," she said.
"This doesn't change who I am. It doesn't change anything, really. But, it has made a significant impact on my family, especially my mom. So, that's where my concern is right now," she said.
Click here to watch the full town hall with Monsef.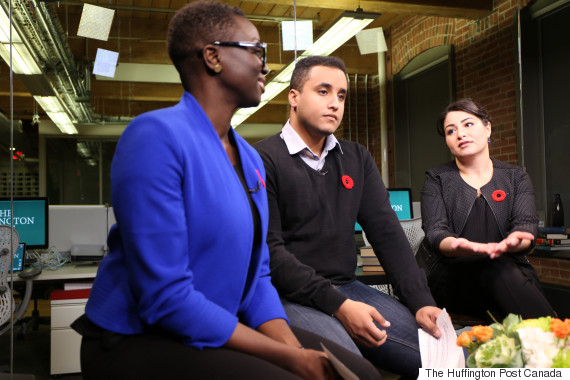 Participants Juanita Kwarteng, left, and Nasrudin Mumin, centre, speak to Democratic Institutions Minister Maryam Monsef, right, at HuffPost Canada's town hall on electoral reform on Thursday. (Photo: Brian Trinh/HuffPost Canada)
Monsef's case has put her in the potential scope of a law that allows for a person's citizenship to be revoked without a hearing.
Immigration lawyer Lorne Waldman told The Canadian Press that if Monsef's birthplace was misrepresented on her citizenship application, that would be grounds for revocation of citizenship, regardless of whether it was an innocent mistake or the fault of her mother.
The British Columbia Civil Liberties Association and the Canadian Association of Refugee Lawyers launched a constitutional challenge to the law, which they argue violates the Charter of Rights and Freedoms.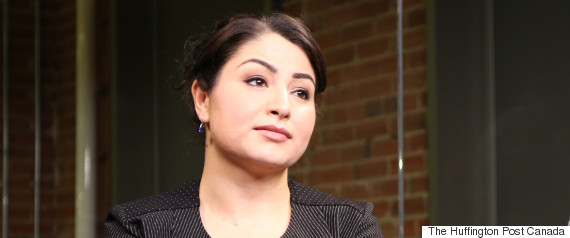 Monsef said she has not received any notice of an investigation into her citizenship application being opened. (Photo: Brian Trinh/HuffPost Canada)
The Liberals blasted the law when they were in opposition, but the BCCLA's executive director Josh Paterson said the law is still being used "aggressively" by the federal government to revoke citizenship from 40 to 60 Canadians every month — with some of them in situations similar to Monsef's.
Monsef told Raj that she has not received any notice of an investigation being opened into her citizenship application.
"For anybody who's concerned about my well-being or me being 'shipped out,' I promise you that if it ever comes to that, I will be the first one to let you know," she said.
PM backs Monsef
Prime Minister Justin Trudeau defended Monsef on Thursday, saying her critics are playing political games.
"People are mixing very different situations for political reasons," he said.
Trudeau said that sometimes when people are fleeing war — as in Monsef's case — "there is not always perfect clarity on which side of the border one is born."
With files from The Canadian Press
Also on HuffPost
Maryam Monsef, Democratic Institutions Minister